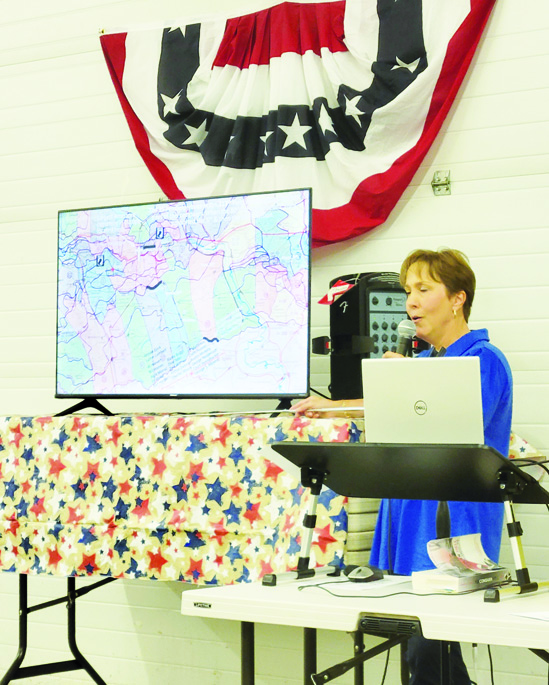 By Stephen Smoot
Despite the cold, wet, and dreary conditions, perhaps 80 or more turned out Oct. 2 for the Pendleton County Historical Society's quarterly meeting and public presentation at South Fork Fire Hall in Sugar Grove late last month.
As the keynote of the event, historical society volunteer Brenna Mitchell shared her extensive research into the stories of the Pendleton County men who served and sacrificed for their country in World War I.  
Much of the research came from a collection of postcards, photos, letters, and other documents assembled by historian H. M. Calhoun after the war. As Calhoun expressed in a letter, "I have in mind compiling a history of the boys," but he died in 1933 before he could write it.
Mitchell explained that despite fires in both the Pendleton County Courthouse and also the St. Louis National Archives facility that houses records of servicemen and federal employees "Pendleton County probably has the most complete collection on its World War I soldiers than any county in the nation."
She found a wealth of additional materials in digitized books on World War I and the Pendleton Times archives.
Before Mitchell delivered her presentation, Historical Society President Paul Clayton praised the near standing room only turnout that filled the room. He said, "I am glad to see such a good turnout, especially on a rainy day like today." 
Clayton added that the society wished to "extend our prayers to the people in the South right now, due to the storms going through."  He also noted that this served as the second public meeting since COVID restrictions lifted.
Mitchell started by describing the local impact of the arrival of World War I. When the United States entered the war in 1917, President Woodrow Wilson sought to boost support by encouraging communities to throw huge patriotic celebrations. Even before the planned party, the first five soldiers shipped off to Camp Lee from the North Fork section.
The Army took local enlistees in groups, most shipping off to Camp Lee near Petersburg, Virginia. Some infantry trained at Camp Meade, while those serving as medics went to Camp Greenleaf. Three separate groups left Pendleton County in the first year of the war.
Most recruits from the Potomac Highlands region at first ended up in the 313th Field Artillery, whose regimental history Mitchell describes as "the best." Training, at least at first, used limited resources as well as possible. Many trained with fake horses and rifles fashioned of wood. Mitchell said that soldiers from Pendleton County recalled with hilarity the efforts of "city" folk to try and mount a wooden horse.
The cursory efforts to prepare soldiers for war led to, as Mitchell put it, an "avoidable and horrid slaughter."
Soldiers, therefore, had to flight, eat, and sleep in filthy trenches, dealing with unsanitary stagnant water, mud, and rats that sometimes grew to the size of dogs. Those from the region often wrote home, as Mitchell explained, "talking about how so much of it looked like Pendleton County."
Mitchell described in detail the Meuse-Argonne offensive, which started on Sept 26, 1918, and lasted until the armistice on Nov. 11. With only 11 field artillery units serving in 15 combat divisions, the 313th and other similar units had to fight all 47 days with no significant rest.
Pendleton's Boys of '17 contains short biographies of hundreds of Pendleton County soldiers. Mitchell mentioned a few, including the tale of Jack Kimble, shot while trying to escape the brig to get back home. She mentioned how Calhoun tried to protect his legacy by only commenting Kimble was "accidentally shot" while guarding a train.
Mitchell also described how she tracked down the story of five soldiers, allegedly accused by the Moorefield Examiner of desertion. They had actually delayed their departure due to all suffering from measles.
The saddest story to tell, however, was of Orbrey Lambert. Lambert served in the 80th Division, like many others from the region. During the Meuse-Argonne offensive, some accused one commander, Robert E. Lee Bullard, of disobeying the orders of commanding general John Pershing. Bullard chose the route of quickest advance, leaving other divisions to fight on their own and without expected support.
In an affidavit written after the battle and recently cited in The Guardian, Major Harry Parkin of the 316th infantry, 79th Division claimed that "General Bullard said that he would not help General Cameron, our corps commander, win any battle laurels . . . and left us to be slaughtered."
Even worse, according to Collier's The Story of the Great War, "Kuhn's 79th, the National Army division from Camp Meade . . .  had never heard a shot fired until it marched up amidst the roar of guns and artillery preparation."
Lambert, who lost his mother at 13 and was raised by relatives, died after the German Empire approached the Allied powers about ending the war, thus making his death even more tragic.
Attendees came from as far away as Keyser. Melissa Tichnell, Susan Becker, and Connie Hartman Horner all came to honor the service of their ancestor while learning more about his times and the war in which he fought.
Becker explained that "I think it's wonderful to keep these memories alive. We wouldn't be free today if it was not for these men."