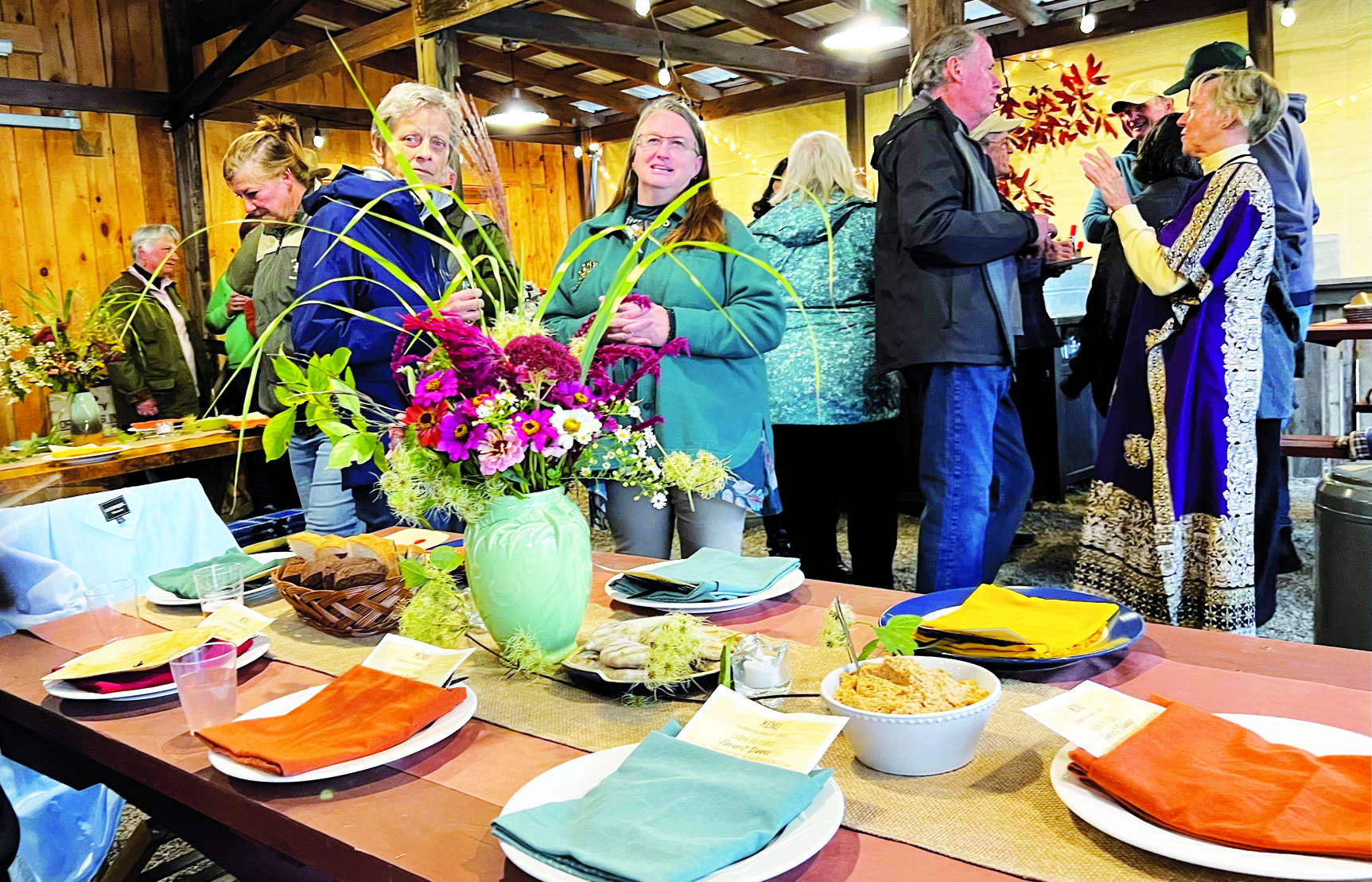 By Natasha Wilson
Matt Welsch, executive chef and owner of Vagabond Kitchen in Wheeling, West Virginia Chef Ambassador for the Department of Tourism, and winner of television's Guy's Grocery Games didn't hold back as he wowed the attendees of the Pendleton County Farmer's Market's Farm to Table Harvest dinner on Oct. 1 at Loafer's Glory Resort & Event Venue in Franklin.
Makers and growers from across the county provided the ingredients and wares that were brought together to create an amazing family-style dinner and silent auction. 
A local harvest grazing table, complete with fresh breads, vegetables, smoked cheeses, etc. started the evening, followed by smoked chicken cornbread casserole, mushroom polenta, roast beef with seasonal veggies and finishing up with a delicious apple charlotte featuring maple cream and maple candied nuts. This was paired with refreshments from Swilled Dog, Greenbrier Valley Brewing Company and Hob Nob. 
In addition to the amazing food, the fellowship and camaraderie of the evening created an atmosphere that felt more like a family Thanksgiving dinner than a gathering of business owners and local enthusiasts. 
 "Events like these are vitally important to recapturing West Virginia heritage, increasing local morale, and bringing the community together. It's an effective way to drive tourism to the state and draw attention to West Virginia." Welsch said.
Welsch continued, "There is a fascinating thing happening right now where we are rediscovering our heritage through Appalachian foods. It's a blending of unified pockets of different ancestry– Irish, Scottish, German, Italian, etc., all coming together to bridge the gap between generations. In areas like this (Pendleton County) where I don't know the people or the culture, I can learn a lot just from the food we share. It's amazing how events like this can bring us together and bridge so many cultural gaps."
Annie Humes, marketing and administrative manager of the Pendleton County Farmer's Market, added, "The farmer's market is open from June-September and has been a place of community since 2019. It's been a joy to create a way to bring the market to people outside of the summer."