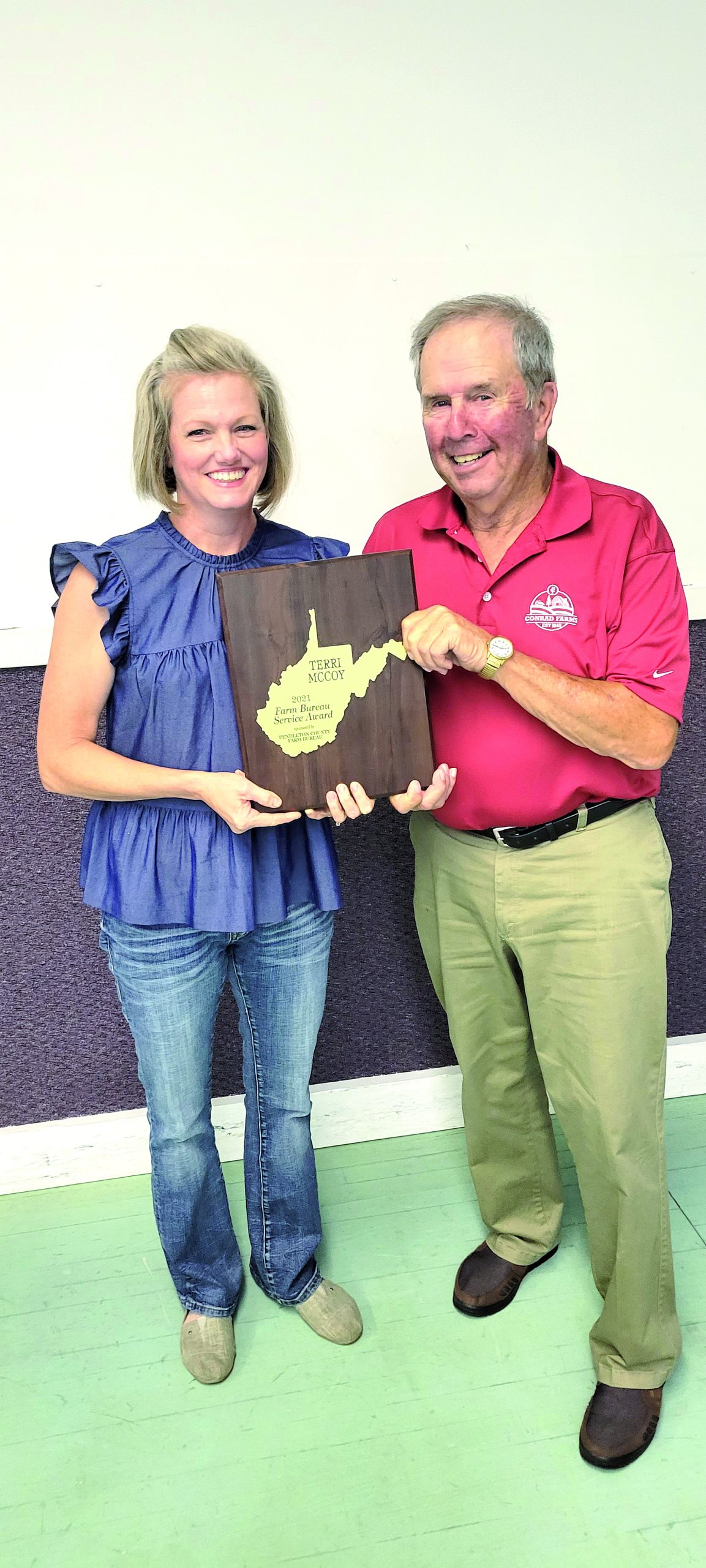 By Stephen Smoot
Saturday night, the Pendleton County Farm Bureau held its annual meeting and dinner at the Potomac Highlands Recreation Center in Franklin. Almost 90 in attendance enjoyed delicious food provided by the center. They also received healthy helpings from the main themes of the night, freedom, the future of farming, and the local Farm Bureau traditions of gentle ribbing and good humor.
The evening commenced with a remembrance of Dottie Warner. Warner served on the West Virginia Farm Bureau women's committee for many years. She also served in a number of civic organizations and encouraged her children, grandchildren, and great-grandchildren as they crafted and completed their own agricultural projects for fairs and other events.
Steve Conrad, organization's president and director from the Eastern District, and Greg Bowers, a Central District director, took a moment to praise the Recreation Center for excellence in both food and accommodations, then introduced Cody Mitchell to speak.
Mitchell, a Petersburg High School graduate and current Potomac State College student majoring in agri-business, won the West Virginia Farm Bureau Youth Speech Contest. He articulately emphasized the opportunities and challenges facing tomorrow's farmers, such as the world population expected to triple by 2050 while agricultural lands continue to shrink. Despite looming problems, Mitchell explained that the future looked bright because "young people go out every day doing their best to solve problems."
Later in the program, the Farm Bureau honored Terri McCoy by awarding her the 36th annual service award. As Conrad explained, McCoy, "is no stranger in helping her fellow man and especially young adults." After mentioning how McCoy met her husband, with tongue planted firmly in cheek, Conrad joked that "other than going to Virginia Tech, marrying John was probably the only questionable decision she ever made."
Conrad went on to describe McCoy's leadership in both agriculture and the community. She served as both member and president of the West Virginia Cattlemen's Association, secretary of the West Virginia Angus Association, and also worked with organizations such as the State 4-H and FFA Livestock Roundup and the Pendleton County Chamber of Commerce, among many other activities.
"Terri and John are owners of Brookwood Farms where they raise purebred Angus and club lambs," Conrad concluded.
Dwayne O'Dell, West Virginia Farm Bureau Director of Governmental Affairs, also shared his concerns about the future of not only farming, but of the state and the nation. He explained that "America went from 'give me liberty or give me death', to 'give me liberty', and today just 'give me.'" O'Dell suggested that America's problems required courage to face, noting that "we'll only be the land of the free as long as we are also the home of the brave."
O'Dell cited challenges for the state coming from several sources. These include the state currently leading the nation in drug overdose deaths. He also cited disappointing educational statistics where state students failed to reach 50 percent proficiency in 11th grade reading, under 30 percent in math and science, and 49th place overall.
Legislation in other states, O' Dell explained, could have serious challenges for West Virginia farmers. California and Massachusetts have passed excessive regulations that each state intends to inflict on pork producers selling in their state regardless of which state the pork came from. The US Supreme Court will rule on these statutes and also the possible return of the Waters of the United States rule which would considerably increase the jurisdiction of the Environmental Protection Agency.
Delegate Bryan Ward of the 55th Delegate District echoed some of the previously expressed concerns, then described challenges faced by elected representatives. Ward described the challenge of being expected to have thorough knowledge of every possible issue with no direct staff support, "you are expected to have a strong understanding of government business, insurance, agriculture . . ., an impossible selection of things to be good at or explain."
Conrad, O'Dell, and Ward all emphasized the importance of each citizen educating themselves on issues such as our state constitutional amendments put up for a vote of the people this coming November.
Finally, Farm Bureau awarded its pins and certificates for length of service.
Earning their 20-year pins were Keith Kisamore, Ralph C. Mitchell, and Kevin H. Roy.
The 30-year pins went to Nancy Bennett, Nathan Bowers, John Hevener, Roger Mallow, John and Terri Lynn McCoy, Roger Mitchell, Kent Puffenbarger and George I. and Kathy Sponaugle.
Receiving 40-year pins were Diann J. Blizzard, Larry R. Dove, Helen June Lambert, and Idelta R. Lambert.
Carolyn Harper received a 50-year pin, and 60-year pins went to Diana Sites, Ralph H. Dunkle, Helen R. Heavner, and the late Morris Mallow.