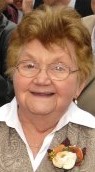 Leona Marie Conrad, 82, of Cumberland, Maryland, passed away Oct. 3, 2023, at Cumberland Healthcare Center in Cumberland, Maryland.
She was born July 14, 1941, at Riverton and was the daughter of the late Kennie Bennett and Pauline Burns Bennett.
Mrs.Conrad worked as a seamstress at Blind Industries for 50 years and was a member of the First Christian Church in Cumberland, Maryland.
On May 14, 1977, she married Jearl Conrad, who preceded her in death on April 4, 2014.
Surviving are a son, Kevin Wayne Conrad (Kathleen) of Hagerstown, Maryland; four sisters, Mae Fisher (Ken) of The Colony, Texas, Mary Simpson (Eddie) of Franklin, Eva Kelley of Cumberland, Maryland, and Wilma Crouse of Elkins; and two brothers, James Bennett and Kenny "Buck" Bennett, Jr., both of Riverton.
She was also preceded in death by a sister, Sue Carol Hinkle.
A graveside service was held Saturday at North Fork Memorial Cemetery in Riverton with Pastor Mike Lambert officiating.
Online condolences and memories may be shared at www.kimblefuneralhome.com.
Funeral arrangements were entrusted to the Kimble Funeral Home in Franklin.