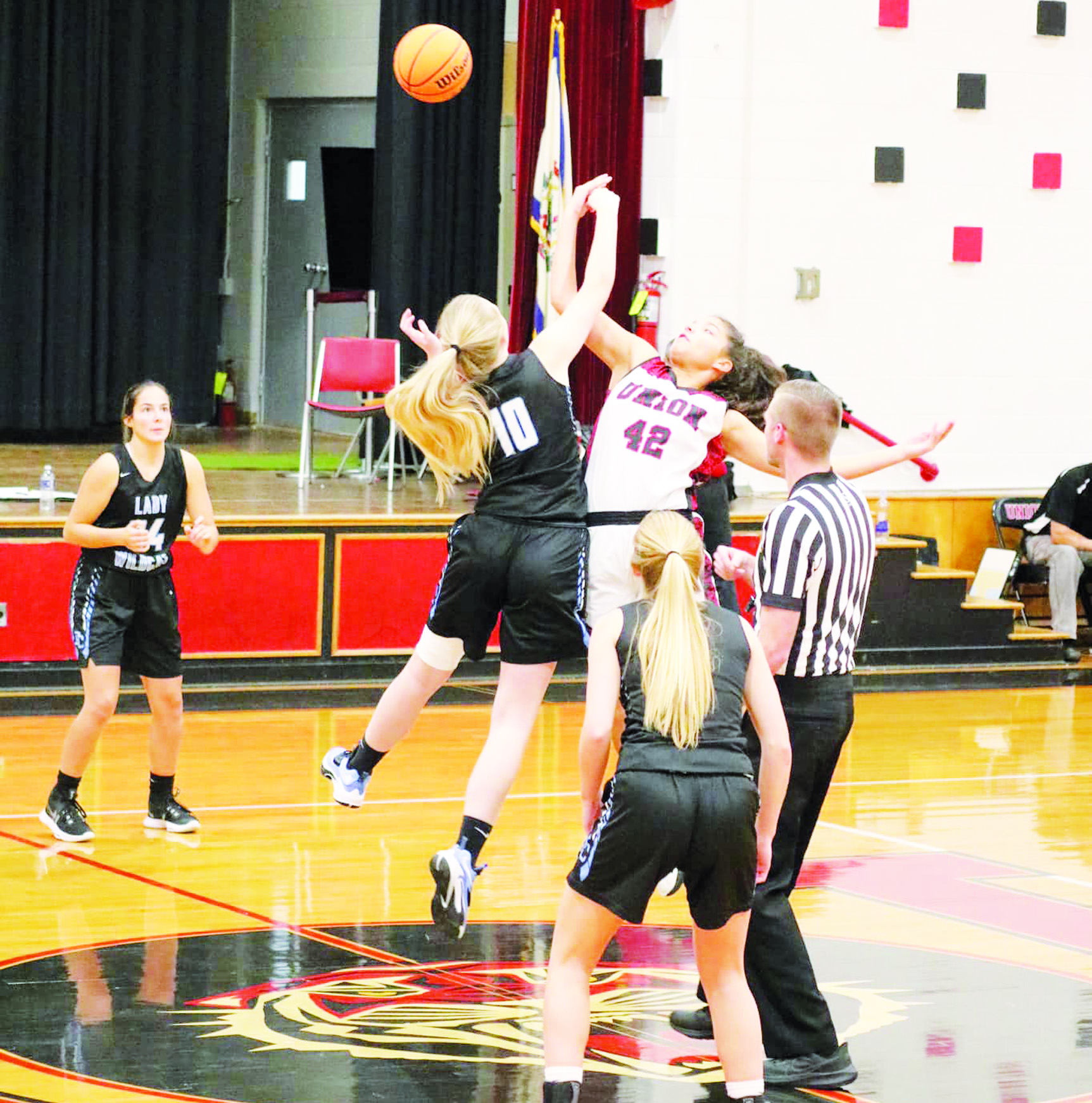 By Stephen Smoot
Before the season started, Wildcat girls' coach Micah Bailey spoke about wanting to see his squad execute a fast-paced style and use its athleticism to attack opponents. Last Tuesday, he saw those expectations delivered in a huge season opening win.
Union brought size and strength advantages to the contest, specifically in junior Bailey Evans. The Tigers' game plan seemed to center around getting the ball to Evans on the post. From there, she could overpower defenders with a drop step or grab offensive rebounds.
Pendleton County also brought their own weapon in the person of Ana Young. In contrast to Evans' bulldozing tenacity in the post, Young's game relies on graceful drives, accurate shooting, speed, and quickness.
In the first quarter both teams sputtered on offense as they sought to get their game legs underneath them. The Lady Wildcats took an early lead on a Young three-pointer, but during the next three minutes Union scored a free throw and a layup from Evans to tie the game at three. With four minutes left to go in the first, Evans gave Union a brief 5-3 lead.
Both teams suffered from ragged play in the first, but it was Pendleton County who found their game first. As the first quarter closed, the Wildcats used balanced scoring from Young, Avery Townsend, and Jenna Smith to edge ahead of Union 12 – 9.
Coach Bailey started his squad in the John Belein style 1-3-1 which slowed Union's scoring, but also kept the game at the Tigers' preferred pace. His early switch to a suffocating man to man and an occasional full court press unleashed his squad's aggression and put Union back on its heels.
After the game, Bailey said of the change, "we needed to speed the tempo up."
Early in the second quarter, Union pulled to within one at 12 – 11 on a short jump shot by Evans. After that, the Lady Wildcats ripped off a 9 – 2 run to close the half.  Union struggled against the aggressive defense, especially of point guards Townsend and Smith who stuck close to their assignments, took several steals, and disrupted passing. 
All of the Wildcats performed well in blocking passing lanes and forcing Union's guards to put the ball on the floor to make plays rather than relying on Evans. Heightened tenacity on defense also forced the game into the fast break pace preferred by the athletic Pendleton County team.
Bailey praised his team's defense, remarking on "their tenacity, their quickness, their anticipation all made it tough for the other team."
The opening action of the third quarter gave a perfect indicator of how the game would play out. Townsend swiped Union's inbound pass and drove it for an easy layup. This kicked off a 15 – 2 run over four minutes that broke the game open for Pendleton County. Center Gabby DePue's long arms and quickness helped to break up interior passes. She also battled the tall and strong interior players of Union for rebounds on both ends of the floor. 
Pendleton County's run also included a key 15-foot jumper by Lizzie Alt. Young's defense, passing, and scoring served as a catalyst for her team's surge forward. The defense also held the Tigers scoreless for three and a half minutes in the third quarter.
The fourth quarter saw the Wildcats open up a 21-point lead. Union clawed back some ground when Bailey called off the press, but the outcome by this point was never in doubt.
Bailey said of the win "it feels good. Last year this time we were 0-1. It's nice to be 1-0."
The Lady Wildcats hosted Tucker County Tuesday, but results were not available by press time. They play again tomorrow night at 6 p.m. against Moorefield in the Tip-Off Tournament at Petersburg. The tournament will conclude Saturday night.