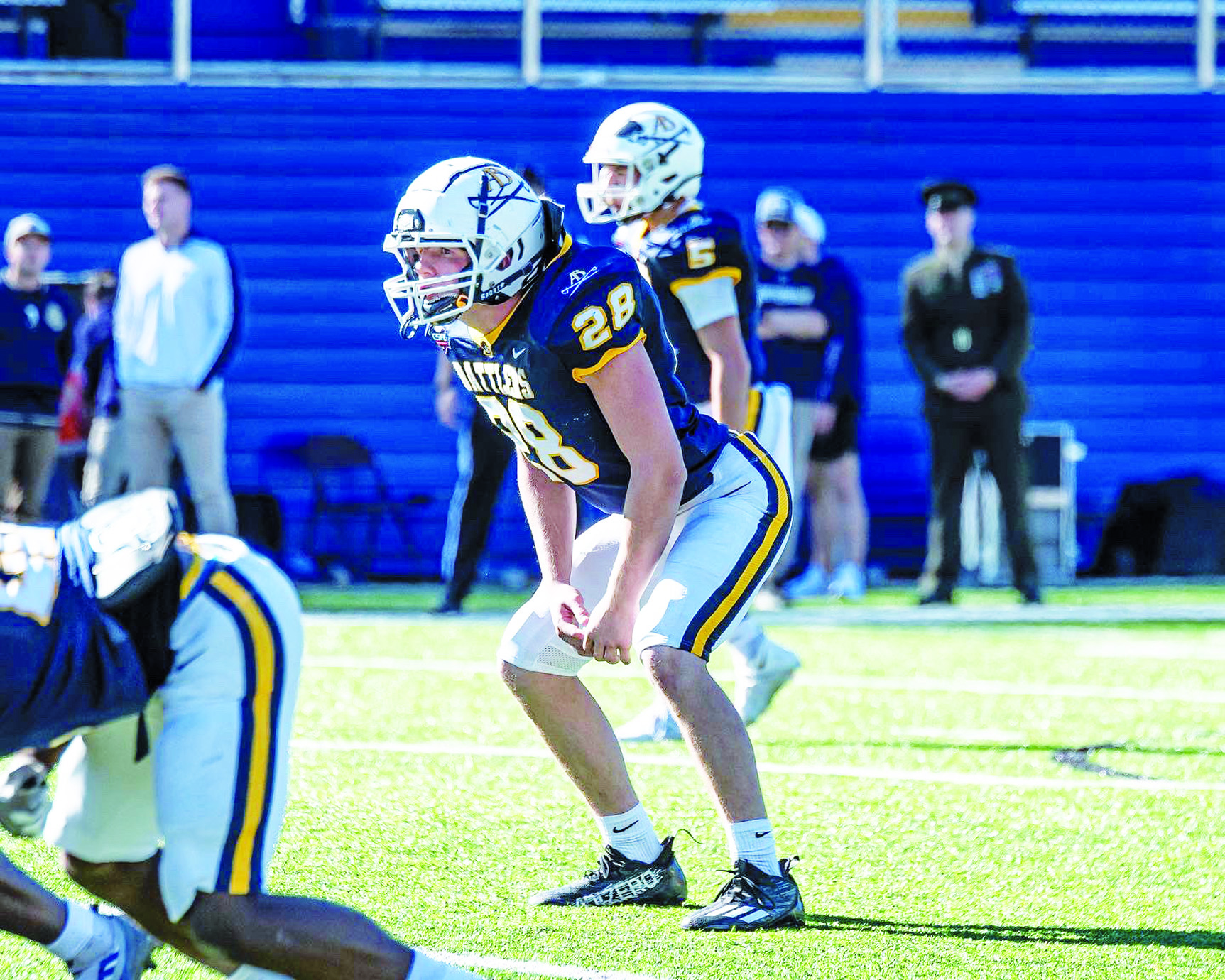 By Stephen Smoot
One measure of a successful high school sports program comes in both the number and quality of graduates playing at the next level. Wildcat fans and the whole community can take pride in the young men, Josh Alt, Dalton Dunkle, Isaiah Gardiner and Keinyn Lockard, representing the region playing college football.
As their high school coach, Zac Smith, describes, "they were and they are really good kids." He added, "they went through school together and those were successful years as a program. They were a huge part of that."
Alt, from the class of 2021, explains that "I always wanted to play." Through his sophomore and junior years, he attended college camps. "My junior year, I felt I could play if I kept working."
Although he first committed to West Virginia State, Alt found a home at Fairmont State University. Smith praised Alt for his resilience in the process and said "he was a bright spot on their (Fairmont State's) defense. His stats blew me away." Alt earned a starting spot early in the season at defensive end and quickly became an anchor for them at that position.
Pendleton County's other three active graduates playing in college participate in the Collegiate Sprint Football League. This league dates back to 1934 and allows players under 178 pounds to participate in full contact intercollegiate football. It contains nine teams, including squads from West Point, the United States Naval Academy and the University of Pennsylvania, as well as Alderson-Broaddus.
Dalton Dunkle, from the class of 2021, was headed for trade school until he received an offer to play for the Alderson-Broaddus sprint team. As his father, Larkin, explains, "It's hard because the school has not had the team for very long. They didn't win last year and won two this year."
Despite the team's struggles, Dalton emerged as a standout performer at linebacker. He placed 10th in tackles with 50 and also snagged an interception. This built on his 2021 season in which he placed 13th with 43. Dunkle placed 10th in the league in punting as well. 
For his efforts, Dunkle was named to the 2022 Defensive Honorable Mention All CSFL team.
Isaiah Gardiner, also from the class of 2021, plays quarterback for the squad. Although a backup, Gardiner placed 13th in the league in passing yards. This was one spot up from his freshman year standings. His father, Kent, explained that he's "looking forward to being the starting quarterback next year" and also sees Alderson-Broaddus as the ideal environment to earn a degree in criminal justice.
Interest started in "his senior year with the help of Gary Smith and Zac, who encouraged him to make it. His older brother also played for Glenville." The biggest difference his son sees, as the elder Gardiner states, is "different styles of practice. You need two a day, sometimes three a day, and there are meetings after meetings."
Keinyn Lockard from the class of 2020 brought to Alderson-Broaddus a hard-nosed style appreciated by his high school coaches. As Zac Smith remembers, "he was a key piece of our 2019 class" that enjoyed tremendous success. He describes Lockard as a "workhorse" who carried 20-25 times in many games. "He's a coachable kid who will do anything you ask of him," Zac Smith added. Lockard plays offensive lineman for the Battlers, helping to protect their high powered passing game while creating space for runners.
Kent Gardiner described many of the benefits that his son learned from college sports, including work ethic. He said, "It's hard work and dedication. They push that all the time." Gardiner went on to say that they emphasize "be on time, keep your grades up. They have study halls every day to encourage athletes to have good grades."
More important, however, is the team culture Kent Gardiner describes at Alderson-Broaddus. "It's all about family," he says, "it's a family college and they emphasize family a great deal."