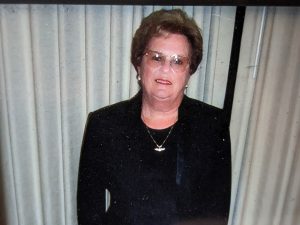 Elizabeth Ann Ferrucci of Palm Coast, Florida, was reunited with the love of her life, Commander David E. Ferrucci, on March 3, 2022.
Mrs. Ferrucci (known to her friends and family as Ann) lived a long, happy life and passed peacefully while recovering from hip surgery.
She was born on Nov. 18, 1937, in Riverton to the late Brosie Earl Harman and Nellie Ruth Smith.  
In her early years, she worked for the Internal Revenue Service performing administrative tasks.  She enjoyed traveling the world with her husband and upon retirement, they moved from Langhorne Pennsylvania, to Palm Coast, Florida.  Her husband, David Ferrucci, was a Navy pilot commander, and she was so proud that she wore her wings always in his honor. She was an avid animal lover and always had at least one dog by her side. She was especially fond of Boston Terriers and adored all breeds.  She generously donated to a multitude of charities particularly those affiliated with animal rescue as well as Armed Forces organizations.
Surviving are a daughter, Michele R. Moro and husband, Jim of Parkton, Maryland; and a stepson, David D. Ferrucci, and wife, Mikki, and their two children, Sarah Ferrucci Marsh and Christopher Ferrucci of Ridgecrest, California.
Mrs. Ferrucci will be laid to rest next to her husband in Arlington National Cemetery.