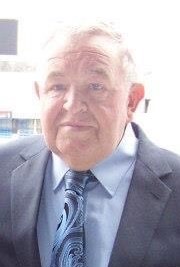 David Arlin Hedrick, 76, of Upper Tract died June 12, 2023, at Cortland Acres in Thomas.
He was born Feb. 24, 1947, at Ruddle and was the son of the late Arlin Stanley Hedrick and Susie Catherine Smith Hedrick.
Mr. Hedrick was a 1966 graduate of Franklin High School
He had worked for Nielsen Construction, at Hanover Shoe Company for 30 years and Allegheny Wood.  He was caretaker of Cherry Hill Cemetery for 15 years, and was a member of Ruddle Presbyterian Church and the Upper Tract Volunteer Fire Department.
On Sept. 5, 1970, he married Wanda Joan Shreve Hedrick, who survives.
Also surviving are three sons, Bill Hedrick (Shawna) and Benjamin "Benji" Hedrick (Amberlee), both of Morgantown, and Matthew Hedrick (Tonia) of Brandywine; two sisters, Kitty Calhoun (Delmas) of Linville, Virginia, and Susie Harold (Paul) of Upper Tract; three brothers, Roger Hedrick (Kim) of Broadway, Virginia, Gary Hedrick (Bernice) of Upper Tract and Donald Hedrick (Christena) of Lacey Springs, Virginia; and five grandchildren, Carrigan Hedrick, Corinne Hedrick, Layla Hedrick, Connor Hedrick and Gram Hedrick.
He was also preceded in death by one son, Charles Hedrick; and two brothers, Dale Hedrick and Rodney Hedrick.
A funeral service was held Sunday in the chapel of the Kimble Funeral Home in Franklin with Pastor Rita Beeman officiating. Interment was at Cherry Hill Cemetery at Upper Tract.
Memorials may be made to Ruddle Park, c/o Pendleton County Commission, PO Box 187, Franklin, WV  26807 in memory of Charles Hedrick.
Online condolences and memories may be shared at www.kimblefuneralhome.com.