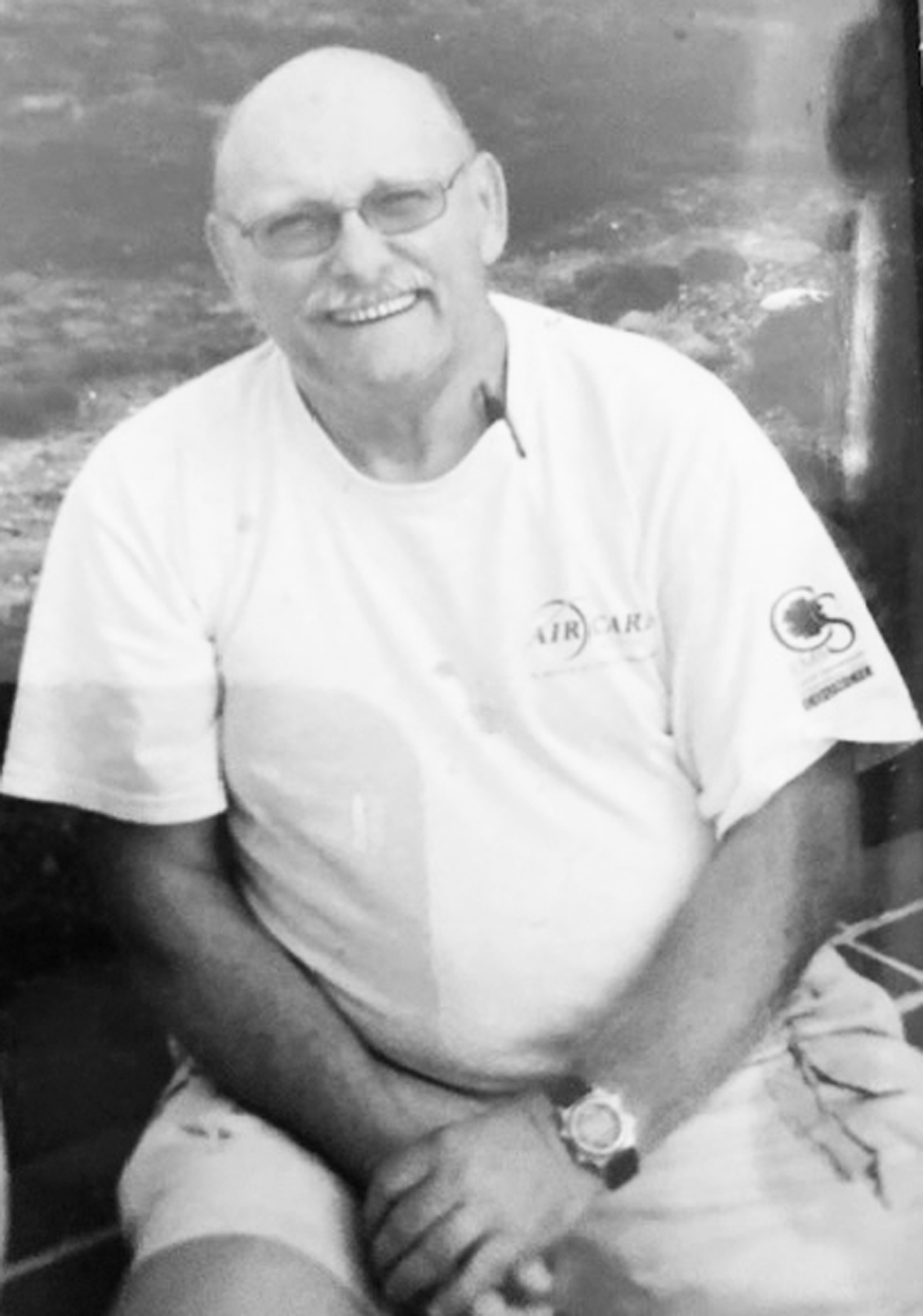 Sugar Grove
By Paula Mitchell
An all too familiar face in the Sugar Grove community, Robert "Bob" Joseph Fisher, Jr., has passed on to his Glory. Born at Camden, New Jersey, he joined the U.S. Navy, serving in that capacity for 10 years, going on three tours, which included Vietnam, before arriving at the Sugar Grove Naval Radio Station in 1968 as one of the first sailors. For 30 years, he was the cook at the base.  
It wasn't long before Bob immersed himself in the community. The movie theater at base was where Bob first met Brenda.  It was Sept. 26, 1970, when he married his love, Brenda Kiser Fisher, with Rev. William Middleswarth officiating the ceremony. The couple supported each other throughout their marriage, enjoying their son, Robby, with all of his accomplishments, their daughter-in-law, Linnea, and grandsons, Logan and Michael.   
Bob's love of singing, with his God given tenor voice, began in high school, where the choir went on tour to sing beautiful songs to the public.  It was here, that he gained acclaim at churches throughout the county. The songs most requested at the Crummett's Run Church of the Brethren's homecoming were "How Great Thou Art" and "Amazing Grace." Those two hymns were perhaps his favorite.  Bob sang wherever he was…at work, at the rescue squad, at the fire department and even at 911. 
He even found time for many years to serve as the umpire for softball and basketball games at the Navy Base. He loved every minute of it. He and Brenda would attend their grandsons' ballgames. This proved to be most enjoyable and relaxing for them.
Bob was a gifted wood worker, making many items for Halloween and Christmas as "give-aways." Many bird houses were made and enjoyed. He had a vast collection of miniature fire trucks and fire department badges, which were very meticulously displayed.  
In his spare time, Bob enjoyed hunting and fishing. He would fish wherever there was water…along the South Fork, Stony Run, and the dams in the area. He had a trout mounted, proving that he had caught "the big one." His grandsons loved to tag along and spend time with him in all of these outdoor activities.
He was especially known for his life membership with the South Fork Rescue Squad, serving his community as an EMT, a CPR instructor, and later as a dispatcher for the Pendleton County 911 agency.  
As a veteran, he became a member of the Sugar Grove V.F.W. Post #9666.  
  As mentioned before, one of Bob's favorite hymns speaks to the occasion:
"When Christ shall come with shout of acclamation,
And take me home, what joy shall fill my heart!  
Then I shall bow in humble adoration,
And there proclaim, my God, how great Thou art!  
Then sings my soul, my Savior God to Thee. How great Thou art, how great Thou art!
Then sings my soul, my Savior God to Thee; How great Thou art, how great Thou art!
Sympathy is extended to Brenda and family.  
Life's little instructions for each day include the following:
Floss one's teeth.

Compliment three people every day.

Watch a sunrise at least once a year.

Never refuse homemade brownies.

Encourage one's children to join a choir.
These hot, sultry days have been unfit for man and beast. Despite that, the farmers continue to do their haymaking, readying for winter feeding of animals. Showers have helped keep the green coloring of nature. The Moyers area had a 2" rainfall this past week. It evidently was a "gully washer."  
Has anyone noticed that the length of daylight has begun to be shortened each day?
Quotes for the week are as follows:
"Remember upon the conduct of each depends the fate of all." —  Alexander the Great
"Let us live like flowers, wild and beautiful and drenched in sun." —  Ellen Everett
"Be humble, for you are made of earth.  Be noble, for you are made of stars." —  Serbian Proverb
"Hot July brings cooling showers, apricots and gillyflowers." —  Sara Coleridge.
"A kind gesture can reach a wound that only compassion can heal." —  Steve Maraboli
Sitting inside by the air conditioner is the best place to hear the "Talk of the Grove."
 Phil Downs visited the Gordon Smith homeplace on Sunday. It was here that he spent some time with his cousins and their families. He also paid a visit with K.D. Puffenbarger on his way home.
The Martin Smith reunion was held Saturday at the VFW pavilion in Sugar Grove. Juanita Smith (Riley) was the oldest person, at the age of 95 years, who attended this year.
Visitors of Rosalee Grogg were Anthony and Sher Mauzy, Madison Grogg, Steve Grogg, Marleta Wimer, Terri Grogg, Claude Castleberry, Hendrix Bogan, Diane Kuykendall and Shannon Smith and her sister, Brandi. 
Shaun, Ava and Leslie Bowers took a road trip up the eastern coast. They spent some time exploring Boston and Portland before arriving at Bar Harbor and Acadia National Park and enjoying the views from the top of Cadillac Mountain. They then drove to New Hampshire and drove to the top of Mount Washington, and making a few more stops on the way home in Niagara Falls, Lake Ontario, and Lake Eerie. It was a great trip full of lots of history and beautiful views.
Tracy, Bobbie, Kinsley, and Connor Amstrong spent a few days at Niagara Falls in Canada.
Bill and Donna Arrington are in Florida for a week with Evan and Ally Arrington, whose son, Zeke, has a regular check up with his doctor.
Helen and Rhonda Nash had a busy week with a visit from granddaughter/niece, Calli Fox, and children, Hannah, Madalyn, Nolan and Tucker of Bumpass, Virginia. The days were filled with an afternoon at the town pool, lunch at the Korner Shop and milkshakes from the Rec Center, meeting new friends Diane, Daniel, and Norman, water fun with the neighbors, a trip to the Green Valley Book Fair, countless games of Uno and bowls of ice cream.
This week's clickety-clacks for the chin waggers are as follows:
A three-week skunk is capable of spraying.

Whirligig beetles' eyes are divided into two parts, so they can see above and under water at the same time.

TV was invented in 1922 in Rigby, Idaho, by Farnsworth.

Montpelier, Vermont, is the only state capital without a McDonald's.

The Fig Newton is named after Newton, Massachusetts.
Concerns for this week are many. They are as follows: Charles Anderson, Roger and Joan Ashley, Mercedes Aumann, Vernon "Fuzzy" Baldwin,  Lynn Beatty, Marie Cole, Jed Conrad, Jeff Craig, Mary Eye, the Bob Fisher family, Donna Fleisher, Lola Graham, Jordan Greathouse, Marvin Hartman, Steve and Armanda Heavner, Jackie Hill, Virgil Homan, Jr., Myrtle Hoover, Debbie Horst, the Dick Hueter family, Mike Jamison, Alice Johnson, Richard Judy,  Marsha Keller, Danny Kimble, Dennis Kincaid, Kim Kline, Melissa Lambert, Robert Lambert, Rex Landis, Angela Lung, Linda Malcolm, Betty Mallow, Roger and Skip Mallow, Neil McLaughlin, Barbara Moats,  Melvin Moats, the Larry Neil family, Aaron Nelson, Ruth Nelson, the Larry Neil family,  Don Nilsen, Cheryl Paine, Barbara Parker, Sutton Parrack, Shirley Pratt, Alda Propst, Kathy Propst, Linda Propst,  Harley Propst, Mary Puffenbarger, Jason Rexrode, Jimmy Rexrode, Pam Rexrode, Donna Ruddle, John Ruddle, Annie Simmons,  Barry and Phyllis Simmons, Davey Simmons, Erin Simmons, Robbie Sites, Rosa Tichenor, Sandra Vandevander, Amy Vaus, Judy Williams, Margaret Wimer and the Anna Wright family.