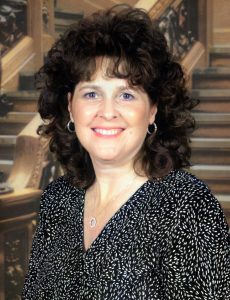 Winona Ruth Hewitt, 63, of Franklin passed away April 6, 2022, at home.
She was born July 1, 1958, at Petersburg and was the daughter of Ruth A. Hartman Warner of Franklin and the late John Delano Judy.
Ms. Hewitt was a 1976 graduate of Franklin High School and attended Blue Ridge Community College.  While in school, she worked as a waitress at New Frontier Restaurant, and over the years her occupation was that of a receptionist and clerical, accounting and administrative assistant at Hanover Shoe Company, RMH Women's Health Focus, Pinecrest Hospital in Beckley and Superior Furniture. She had recently retired from the law office of Bowers & Bowers/Sugar Grove Realty.
She was a member of the Church of Jesus Christ of Latter-Day Saints.
Scrapbooking was a favorite hobby, but her greatest passion was spending time with her nieces, nephews, great-nieces and great-nephews and attending their many softball and basketball games and tournaments.
Also surviving are a sister, Rita Todd (John) of Franklin; two brothers, Tony Judy (Rhonda Halderman) of Franklin and Johnny Judy (Pam) of Brandywine: eight nieces and nephews, Kara Townsend, Sara Campbell, Tanya Wehrle, Arica Miller, Jared Judy, Jessica Judy, Kyle Judy and Kayla Judy-Scheibner; 10 great-nieces and great-nephews, Kaitlyn Todd, Taylor Townsend, Tanner Townsend, Gage Campbell, Avery Townsend, Allan Wehrle, Karigan Miller, Lori Wehrle, Sydney Miller and Josephine Harper; her soulmate, Eber Dale Sponaugle of Circleville; and two stepsisters, Anita Davis (Ted) of Riverton and Jacqueline Stumbo (Joe) of Franklin.
She was also preceded in death by her stepfather, Richard G. Warner.
A funeral service was held Monday at the Church of Jesus Christ of Latter-Day Saints in Franklin with Bishop Kyle Apple and Elder David Hartman officiating. Interment was at Cedar Hill Cemetery in Franklin.
The family prefers that memorials be made to Pendleton County Rescue Squad, PO Box 727, Franklin, WV  26807, Mountain Hospice, 1002 Crim Avenue, Belington, WV  26250 or the American Cancer Society, c/o Relay for Life #N2E9TE, P. O. Box 2438, Kennesaw, GA  30156.
Online condolences and memories may be shared at www.kimblefuneralhome.com.
Funeral arrangements were entrusted to Kimble Funeral Home in Franklin.