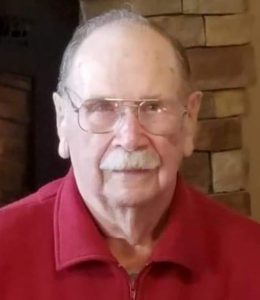 Owen Kenneth Eye, 93, a resident of Harrisonburg, Virginia, passed away peacefully April 5, 2022, at Brookdale Senior Living.           
Born on Dec. 5, 1928 in Montezuma, Virginia, he was the son of the late Olen Kenny and Amanda Florence Puffenbarger Eye.
Affectionately known as "Junior" or "Junk," Mr. Eye grew up in Bridgewater, Virginia, with five older siblings and a large, loving extended family. After graduating from Bridgewater High School, he enlisted in the Air Force and proudly served his country in Germany and the United States from August 1948 to July 1952. A talented baseball player, he played while abroad for the Nuebiberg Air Base team and after returning home, for the Harrisonburg Turks and several county league teams throughout the late 1940s and 1950s. It was said he could throw strikes from center field and hit with power from the right side. In his free time, he turned his attention to golf where he was a formidable competitor and scored three holes in one over his lifetime, the last one at age 82 while playing at Heritage Oaks with his three sons.
He enjoyed the outdoors, especially hunting and fishing, and he loved spending time with his boys in these activities. He was also a craftsman who worked with wood and was especially talented with a scroll saw. His career in manufacturing and sales with local companies spanned 40 years. He was a member of Muhlenberg Lutheran Church in Harrisonburg, Virginia, for nearly 50 years.
 He loved his family fiercely, and there was nothing he wouldn't do to help at any time. His family has many treasured memories of his loyalty and eagerness to pitch in to paint a room, build out a basement, load up a moving van, deliver a peck of apples, or fry up some oysters for a special family meal. The list is endless. As grandchildren and great-grandchildren arrived, his devotion to them was unwavering and obvious through this enthusiasm for spending time with them, showing them all the things he loved. He will be remembered fondly for his sense of humor and love of making up words and nicknames for everyone. 
His wife of 66 years, Joan Simmons Eye, survives.
Also surviving are three sons, Michael (Judy West) Eye and Timothy (Stefanie) Eye, all of Rockingham, Virginia, and Stanley Eye of Harrisonburg, Virginia; five grandchildren, David Eye, Kenneth Eye, Jacob (Melissa) Eye, Grace Eye and Eric (Leah) Tichenor; three great-grandchildren, James Eye, Mckenna Eye and Reagan Tichenor; and many cherished nieces and nephews.
He was also preceded in death by his siblings, Harl O. Eye, Velda Armentrout, Dillon Eye, Bonnie Kemp and Sue Shaver.          
A family service was held Saturday at St. Jacobs-Spaders Lutheran Church.
Memorial contributions may be made to Legacy Hospice (CHA Foundation, c/o Legacy Hospice, 500 Faulconer Dr., Charlottesville VA 22903, or www.chafoundation.net/contribute-online.
Condolences and memories may be sent to the family by visiting www.lindseyharrisonburg.com.
Lindsey Funeral Home in Harrisonburg, Virginia, was in charge of arrangements.