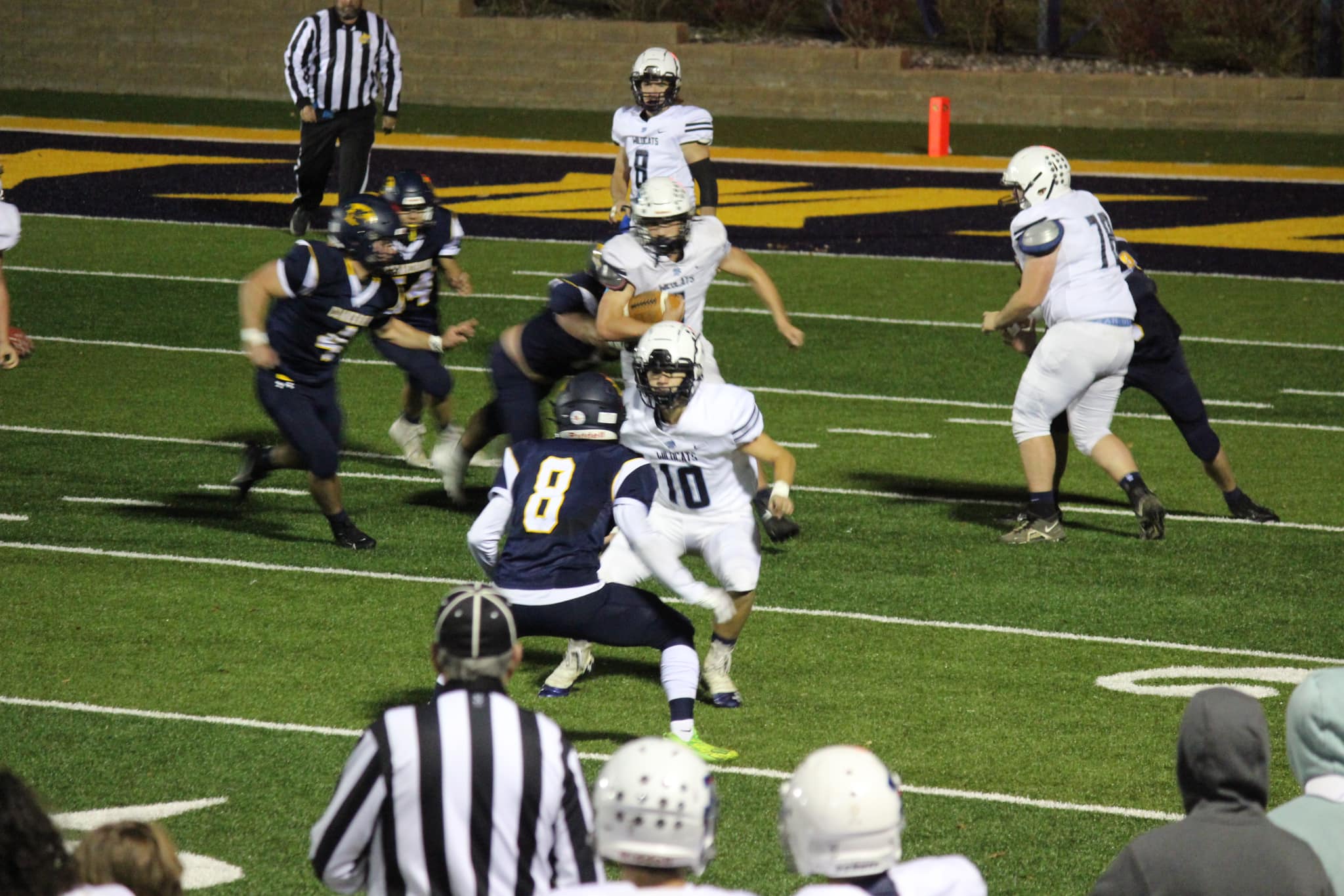 By Stephen Smoot
This season's schedule from the beginning gave Pendleton County very little margin of error. Four teams, Greenbrier West, East Hardy, Tucker County, and Cameron, have dominated opponents all year long. The Mountain Lions head into the state playoffs with a number one ranking.
All of this gave the Wildcats almost no margin for error, as head coach Zac Smith described the conference last August as being "no cakewalk." Also, the team implemented a new offense with "more of a zone run scheme, as opposed to a traditional gap scheme." This scheme relies on a smart and flexible quarterback to read the defensive end to make decisions.
"We didn't run this style of offense as much last year," Coach Smith noted, but added, "we've got some high IQ football guys in the backfield."
The Wildcats struggled in their first two games, competing against some of the best talent in the state. Against Petersburg, the team took the loss, but showed fire and moxie, staying in the game until the end. Despite the setback, the team took confidence from the experience.
Pendleton County finally got to show what its new system could do against moribund Richwood. The team exploded for 60 points.
Throughout the season, the team also got healthier. Key talent returned from injuries and gave quarterback James Vincell more weapons. Despite an injured throwing hand, he demonstrated consistent accuracy on the vast majority of throws. Coach Smith remained flexible in his playcalling, aiming at a balanced attack, but sticking with whatever seemed to do the most damage against opponents. 
Coach Smith in August explained that his task that summer lay in finding team leaders. Vincell, a junior, has demonstrated significant leadership throughout his time here. The twin playmakers, Dillon and Dusty Smith, have, along with Justus Kuykendall, as well.
But this year, the team found its strength in a hard-working line on both offense and defense. Tanner and Tyler Huffman anchored a line that teams had a hard time moving all year. 
Josiah Kimble and Chase Owens allowed Vincell and the offense to stretch the field, making big plays at the receiver position. Both also made electrifying plays as kick returners.
The defense also provided excitement with Tucker Smith, Nick Rhodes, and Bradey Bowers bringing consistency. Wildcat defenders both tackled well and created turnovers to give the offense opportunities.
Gabriel Harvey showed himself a powerful weapon with a strong leg capable of both making scores on kicks and pinning teams deep. He also appeared increasingly on offense and defense, adding his speed and toughness.
While the team did not make the playoffs this year, it made memories. Recent struggles against a Moorefield team expected to make the jump to double A next year were exorcised by a double overtime thriller that saw Pendleton County rebound from a seemingly impossible 28-point deficit in the third quarter.
More importantly, the team gained experience and confidence. The short term lies in the single season, but a program develops for a longer term. Pendleton County football saw their team and execution improve in almost every game. They can take lessons from this year that, applied next year, can lead to even bigger accomplishments. 
The improvement this year was shown in the number of Pendleton County players receiving post season conference accolades.
On offense, Tyler and Tanner Huffman earned a second team selection, with Bowers selected as an honorable mention. Dillon Smith was selected as a first team running back while Owens earned a spot on the second team. In the wide receiver category, Kimble was on the second team and Dusty Smith an honorable mention. 
Vincell was second team quarterback.
On defense, Tyler and Tanner Huffman were picked as honorable mention linemen. Bowers was picked as a second team defensive end. Dillon Smith earned first team as an inside linebacker, with Kuykendall selected on the second team. Rhodes was an honorable mention and Dusty Smith made honorable mention as a defensive back. 
They achieved a tie record this year, but remain hungry and are capable of even more in 2024.