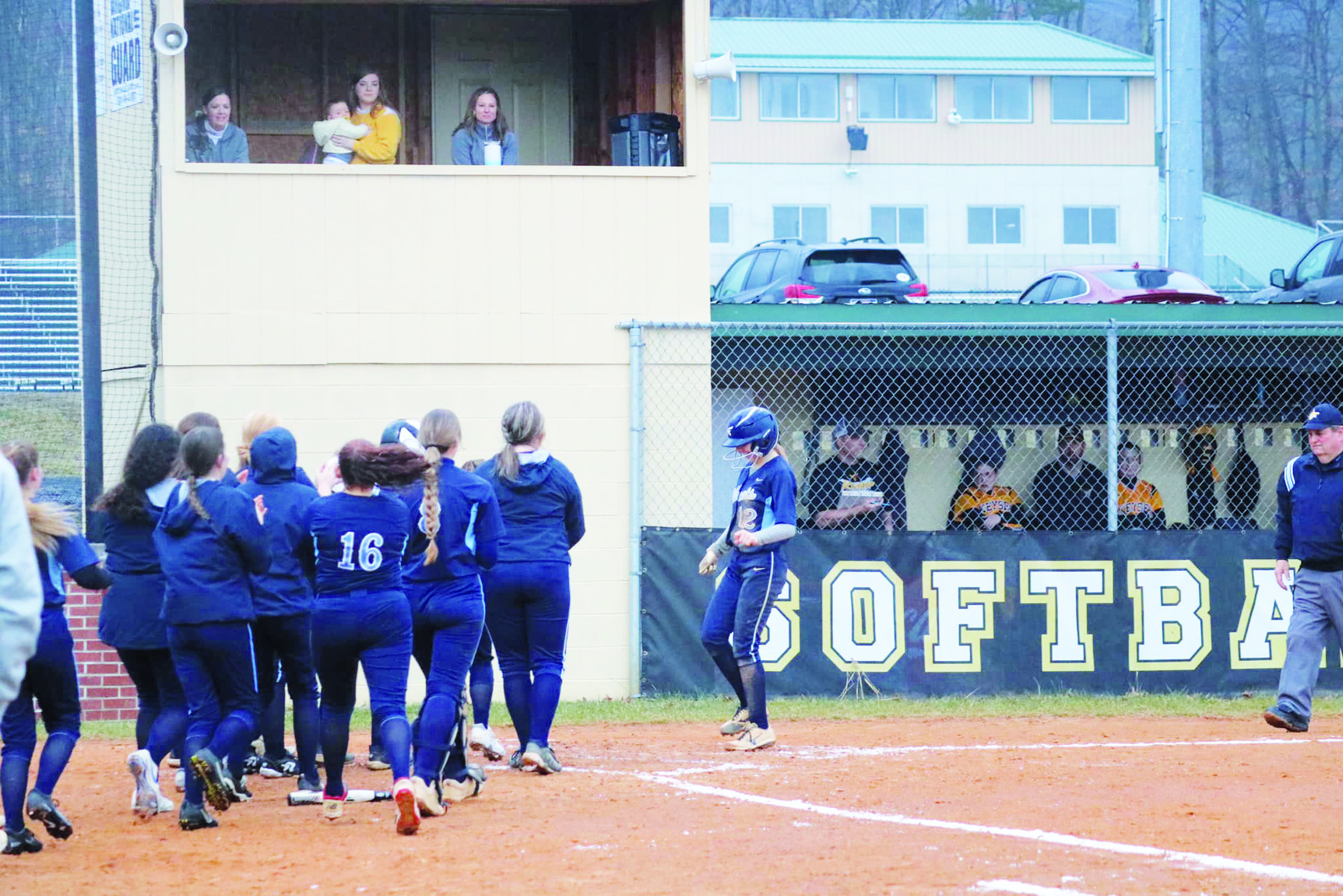 By Stephen Smoot
As the gray of winter makes way for warmer temperatures and longer, sunnier days, Pendleton County sports move from inside the gym outside to the fields. 
Head coach Charlie Padgett has high expectations for his Pendleton County High School softball squad coming into the year, but the team faces tough competition regionally. As he stated, "we had a hard time beating Petersburg and Moorefield last year. We have a really tough section." Coach Padgett added that "Tucker is tough now too."
What Padgett brings to the field this spring is a team laden with talent, many players bringing in two sports' worth of state playoff experience from this year alone. 
Though experienced, the team is relatively young.  Padgett said "We lost three girls to graduation last year, but pretty much have the same starters." The pitching staff features juniors Allie Vance, Baylee Beachler, and sophomore Jenna Smith.  Catchers include juniors Nataley Hedrick and Katie Hedrick, and Smith. 
He explained that the returning pitchers from last year performed very well. In terms of the pitching and catching battery, "we've got that covered."
One of Pendleton County's key advantages will come from flexibility. Beachler, for example, can play exceptionally well at pitcher and outfield while using her athleticism to cover third base.  Padgett also praised her dedication, saying that "she likes to be in the weight room."
According to Padgett, the team can take multiple approaches depending on the situation. "We hit 13 home runs last year," he shared, then added that "the senior hit one, but the rest were hit by sophomores and freshmen." 
Do not expect the chicks to only dig the long ball, though. "Long ball, small ball, we can do it all," the coach explained. He added that "the long ball is dramatic, but small ball wins a lot of games as well. On occasion, though, we turn their bats loose and swing away." 
One of the main strategies lies in "keeping the other team guessing," as Padgett says.  Players know how, when the situation calls for it "to run squeeze plays, bunt, slap, or swing away." On defense, most players on the team compete in multiple positions and can rotate between outfield and infield.
The Wildcats' high school squad benefits greatly from years of work put in earlier on. "Most of these girls are ready for high school," Padgett said. "Dads and travel coaches get their fundamentals down before they get here." Those years of playing together also forged the kind of team chemistry that leads to increasingly better play and overall success.
Coach Padgett expects his squad to gear up quickly for a competitive season. As he described, "hitting is just timing." and "the pitching mechanics should be there. They do well at it." Additionally, a year of growth and strength training should show a good effect on the field. As the coach states, "they get a growth spurt, then they get stronger. With us, people will be hitting more long balls and the pitchers will be better. Most have gotten bigger and stronger."
A strong Keyser team that took 22 stolen bases at Hampshire County defeated the Wildcats in last Friday's opener. Pendleton County traveled to play at East Hardy on Wednesday and will travel Saturday to Spring Mills for a doubleheader. They will face Pocahontas County at 5 p.m. Monday at home, travel to Tygarts Valley on Tuesday and be at home March 30 against Petersburg.
Pendleton County has an ambitious schedule that will test both their experience and prepare them to challenge in the postseason. This includes trips to larger schools, such as Spring Mills, Robert C. Byrd, Musselman, and Liberty (Virginia).  Much of their focus will remain, however, on rivals in Grant, Hardy, and Tucker counties. These teams stand in the way of any dreams of competing in the state tournament later in the spring – not to mention competition for Potomac Highlands bragging rights.
"There's nothing better than whipping Moorefield," Padgett smiled.