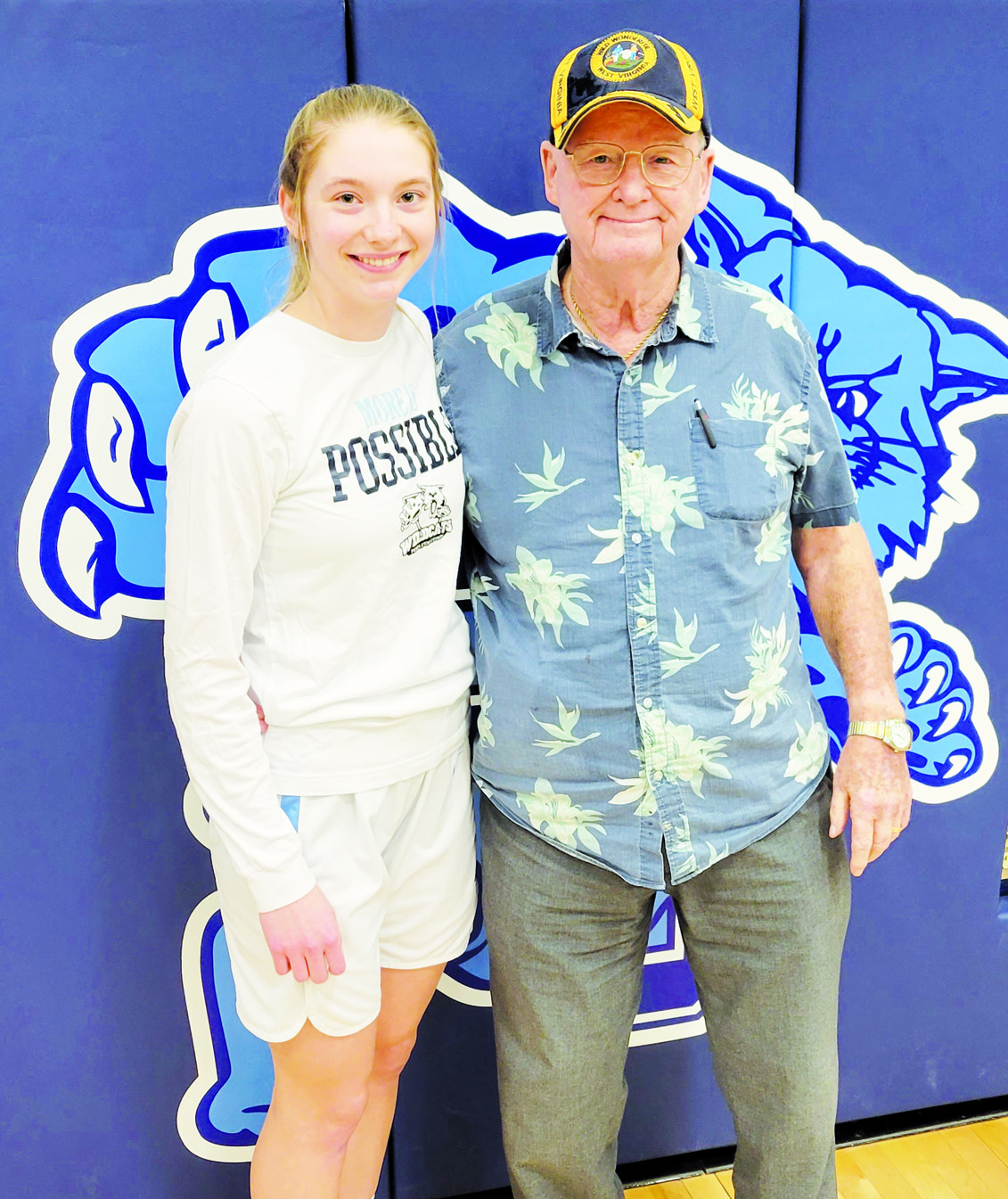 By Stephen Smoot
Looking at Richard "Cricket" Bennett today, a person might not at first glance see a county basketball legend. His Vietnam service baseball cap sits atop a head of white hair. He may not have the same physical quickness and vertical leap that led to his nickname. 
What quickness Bennett displays today comes from his wit and banter. He befriends every man and charms every woman he meets. Bennett is what is called in England a "hail fellow, well met," a man who brings joy and vitality into every encounter. When he and his caretaker, Shirley Mitchell, enter the Korner Shop Café, it's more a gathering of old friends than a visit to a diner.
But this is a basketball story.
In 1960, Franklin High School was on a 10 game winning streak. They boasted a 14-5 record by the third week of February. Against Harman, Bennett led Franklin with 21 points. It was, however, his 53-point effort against Mathias that grabbed everyone's attention. He hit 21 shots in an era with no three-point line. He also connected on 11 of 13 free throws.
Bennett's basketball dreams started at Brandywine Elementary School. As Bennett remembers, "I was running through the gym chasing another kid when Coach Dick Murphy yelled at me. I said 'me?' He said 'yes, you.'" Bennett added that "the team was short one person for practice. They needed another player. That's how I got my start playing basketball."
Like many kids in his time, Bennett grew up in a family that worked hard, but had little. "I grew up rough," Bennett explained. To this day, he still relishes the only game day snack he could afford. While his friends ate burgers and hot dogs at the diner now called Korner Shop Café, he put ketchup on complimentary salad crackers. 
"My dad worked 10 hours a day," Bennett described, "he never got to see me play ball."  Neither of his parents graduated from grade school because both had to work early to support their families. One day, his father pledged to pay him a dime for every point scored. "The first time I scored 36 points, he said he couldn't afford to do that again. I said okay."
Although as he says, "I was just a runt in school," Bennett had a reliable outside shot and shot 95% from the foul line. He added that, "I always fought for rebounds. I knew when we were going to miss." Bennett also took pride in his defense, saying "I was fast. I could steal the ball."
He remembered that "my best shot was not a jump shot per se. I'd lean back and shoot the shot. If it didn't go in, I'd go after it." Some of the toughest games came against Circleville. Games "were tight," he said. "They had a balcony. I went to throw the ball in and hit the balcony. Once you hit it, that's it!"
Coaches deserve credit for at least some of the success of their players. Bennett had high praise for Franklin's head coach at the time. "Gus Smith," he said, "he was very nice. He treated us good. He didn't get down on us for anything. Maybe that made us better men."
Bennett also impressed as a pitcher in baseball, earning a scout from the Chicago White Sox after dealing a no hitter. They came to see him in Harrisonburg, Virginia, "but by then I'd already joined the service.
Sports often does help to transform a young man into a better man. Bennett went into the United States Air Force and served his country in Vietnam. He also spent a career working for the company once named "Esso," now called Exxon. He quipped that the company name, which was the phonetical way to spell the letters S. O. for Standard Oil, stood for "Every Sucker Stops Once."
Though he comes back often to his home county, last month Bennett had a special reason to return. He had read about Ana Young equaling his 53-point game against Tygarts Valley and gaining national recognition for the feat. He came back to meet the player and to recognize the achievement, but also found his athletic career honored as well.
The two met before the game, chatted and took pictures. During game introductions, Young sprinted to the bleachers, smiled, and gave Bennett a fist bump – the present honoring the past. Between the third and fourth quarter of the Tucker County game, Dave Eason, athletic director, introduced Bennett to the crowd and read his accomplishments. 
The capacity crowd rose and cheered. His face reflected the affection of the cheering attendees. A tear appeared to almost escape from his eye as he took in the moment. 
Almost.