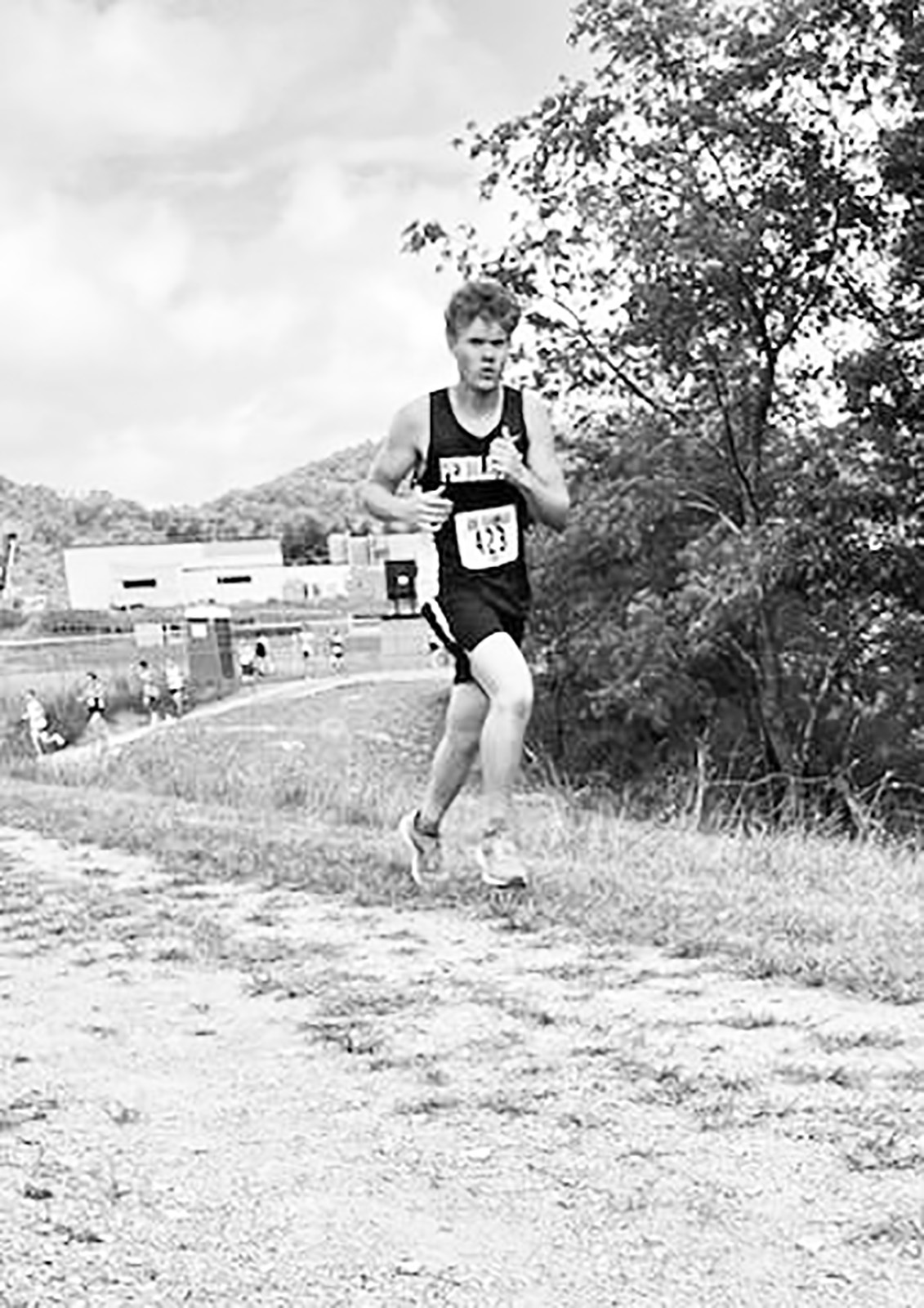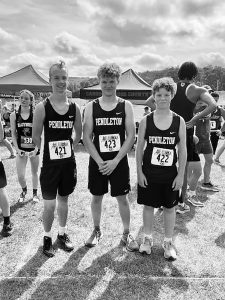 By Stephen Smoot
"They have continued to get better nearly every race, and that's largely due to their work ethic," says Mary Beth Hebb, head coach of Pendleton County's cross country squad of Thunder Gill, Titus Nulph, and Cain Nulph.
The three young men representing their school on the long trails and steep hills have shown determination in the face of competing weekly against programs with more numbers, deeper traditions, and powerful reputations. 
And therein lies the beauty of the sport. At the end of the race, talented and hard-working individuals can outpace all of those intangibles.
At the first meet, the 30th annual Frankfort Invitational, Gill tread the up and down course for a 20th place finish and a time of 19:19.10. At the Broadford Invitational, his time dropped tremendously to 18:27.9 as he claimed fourth place honors.
The next week, at the western end of Mineral County at the Open Meet in Keyser. Gill took fifth place while dropping his time to 18:57.
While every course is different and varying conditions, such as temperature, humidity, and rain, can also affect results, course time represents one of the best benchmarks of improvement. Place in a race, however, is much more subjective. A 20th place finish at the Frankfort Invitational is not as far from a fifth-place finish at Keyser as one might think, because the Frankfort race includes a larger number of athletes from top schools traveling from three states.
Hebb praised Gill's ethic, pointing out that he has set "big goals this season." He still seeks to break 18 minutes in course time. More importantly, he seeks to appear in state championship competition.
"He was so close last year (missing by just one place)," Hebb explained, adding that this year, he "is in a much stronger position to qualify."
Gill edged closest to beating the 18-minute mark in the Bearcat Classic. Against strong competition from the central part of West Virginia, he posted an 18:03. 
Hebb described all three of her runners as "hard workers," but noted that Gill and fellow veteran runner Titus Nulph continually push each other to excel.
Titus Nulph also performed well at the Bearcat Classic, coming in under 20 minutes in what Hebb called "a good cross country milestone." She described the Taylor County course as "one of the faster ones," but added that it also contains a "long, steep hill toward the end that can be pretty demoralizing." Titus Nulph, however, runs hills exceptionally well and used that skill to pass other competitors.
He finished with a time of 19:42 at the Bearcat. His opening time of the season at Frankfort was 20:04.70, while scoring 20:18 at Broadford.
The least experienced member of the team, Cain Nulph, has taken the biggest strides. At Frankfort, he ran for a 35:08.90, but lopped four minutes off of that time at Broadford. Keyser saw his time dip again to 29:42. He continued to show strong improvement in the last race, with a time of 29:06.
"Cain has been taking huge chunks of time off each meet, which is a rewarding part of a first season," Hebb explained. She added that "it gets a lot harder to do that after you really start training in the off-season and get some experience at racing."
Overall, Hebb shared that "it's been rewarding to watch all of them improve and learn to fall in love with the sport and with racing this season, whether it's for the first time, or all over again."
The team will take to the trails next on Oct. 10 at the Potomac Valley Conference championships at Keyser High School.