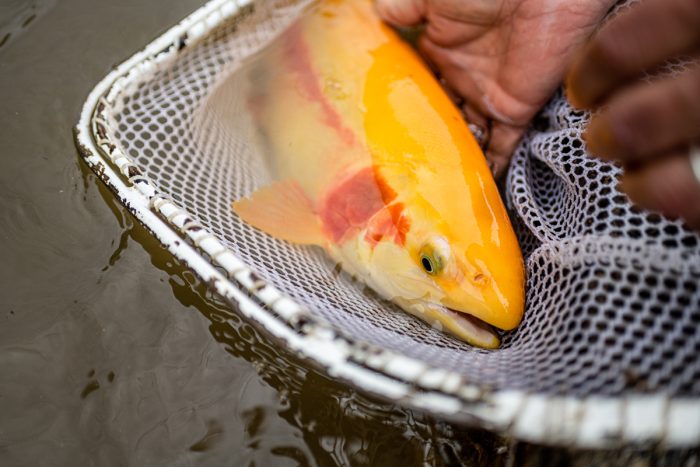 By Stephen Smoot
State anglers will have to follow new regulations and guidelines this year, according to a release by the West Virginia Department of Natural Resources.
According to Mark Scott, assistant chief of fish management for the WVDNR, who was quoted in a release, "Probably the biggest change is that we now have a statewide 30-fish daily creel and a 60-fish possession limit for game fish that didn't have a creel limit before."
A creel limit refers to the "maximum number of fish in a species that can be legally taken in a day," according to the Law Insider website.
New limits apply to "black and white crappie in aggregate, bluegill and all other sunfish species in aggregate, all other game fish not currently under a creel limit, and yellow perch." The regulations went into effect on Jan. 1. Limits on fish that had no limits prior will help the WVDNR to determine if the limits need to remain in place to protect numbers.
In other changes, the WVDNR designated and marked a half mile section of Thorn Creek for fly fishing only. DNR officials also established delayed harvest on a 5.5 mile stretch of Shavers Fork of Cheat River from Whitmeadow Run to McGee Run in Randolph County and on the Williams River from Tea Creek to two miles downstream in Pocahontas.
According to the WVDNR, delayed harvest is "a regulation implemented to provide recreation C&R angling during periods when the likelihood of fish survival is highest, then removing restrictive harvest when conditions begin to become inhospitable." 
The new regulation book also identified June 10 and 11 as Free Fishing Days with no license required. WVDNR also introduced three new licenses: a three-year hunting and fishing license (Class X3), hunting and fishing license with trout stamp (Class XP), and a three-year hunting and fishing license with trout stamp included (Class XP3).
While the DNR does not announce trout stockings in advance, they provide information on stocking in the recent past. On Jan. 5, the DNR stocked Spruce Knob Lake and the North Fork of the South Branch catch and release zone. On Jan 6, they stocked the North Fork of the South Branch in an area without catch and release restrictions. The DNR also stocked the South Branch at Petersburg on Jan. 10.
The state will continue to promote special fishing events. For the sixth year in a row, the West Virginia Gold Rush returns. Over 12 days, between March 28 and April 8, the WVDNR will stock selected locations with 50,000 golden rainbow trout. Some call them Centennial trout because of its introduction on the state's 100th year of existence.
Gold Rush stocking in and near Pendleton County will take place on North River at the mouth of Mossy Creek, Hawes Run downstream of the Brandywine Recreation Area, on the South Branch at Franklin, Spruce Knob Lake, the North Fork downstream of Seneca Rocks, Smoke Hole Campground on the South Branch, and South Mill Creek upstream from Wolfpen Hollow.
Around the state, the DNR will also stock at appropriate West Virginia State Parks and Forests.