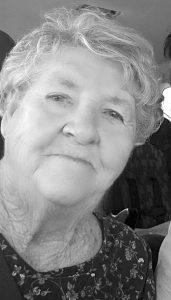 Vergie Mae (Hanna) Cartwright, 93, of Brandywine passed away on Feb. 15, 2022, at her home.
She was born on Feb. 22, 1928, in Richwood, the daughter of the late Arbor and Verna Virginia (McClung) Hanna. 
Mrs. Cartwright attended Canvas Grade School and graduated from Nicholas County High School and Charleston Beauty Academy.
She owned and operated Vergie's Beauty Shoppe in Franklin, Moorefield and Ft. Seybert until her retirement in 2008. She was a Christian by faith.
Her husband, John Pershing "Purge" Cartwright, preceded her in death on Jan. 6, 2015.
Surviving are two daughters, Deborah Hanna of Ft. Seybert and Brenda Jackson of Summersville; a stepdaughter, Phyllis Hurt of Tennessee; two stepsons, Darrell Cartwright of and Basil "Darvin" Cartwright (Mary), all of Summersville; 13 grandchildren; a number of great-grandchildren; and a number of great-great-grandchildren.
She was also preceded in death by two brothers, Richard and Roger Hanna; and a sister, Nancy McCutcheon.
In honoring her wishes, her body was cremated and a celebration of life will be held at a later date.
Memorials may be made to the family, c/o Basagic Funeral Home, PO Box 215, Franklin, WV 26807.
Memories and words of comfort may be left at www.basagic.com or on Facebook at Basagic Funeral Home.