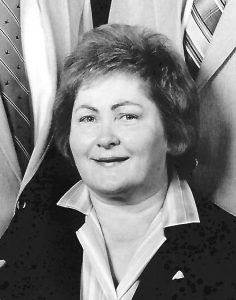 Lucy Ellen Bodkin, 86, of Brandywine passed away on Feb. 13, 2022, at Virginia Mennonite Retirement Community in Harrisonburg, Virginia.
She was born on Nov. 21, 1935, in Youngstown, Ohio, the daughter of the late George R. and Ruth Francis (Fogle) Sewell.
Mrs. Bodkin attended the Church of the Nazarene in Staunton, Virginia, where she served as secretary/treasurer and the church organist. She was a member of the First Baptist church in Brandywine, where she served as treasurer and was active in Women on a Mission. She was also a member of the South Fork Volunteer Fire Department Ladies Auxiliary. She was a homemaker and had worked as a US Mail Carrier for five years.
 On June 16, 1951, Lucy married Billy Sheldon Bodkin, who preceded her in death on April 26, 2016.
Surviving are a daughter-in-law, Anjey Bodkin of Lawrenceville, Georgia; two grandchildren, Rhiannon Bodkin and Muireann Alastar Nic an Gheatora; and a great-granddaughter, Alice Hatch.
She was also preceded in death by a son, Mark Sheldon Bodkin; a granddaughter, Annastine; and three brothers, George Daniel, Vernon and Charles. 
Funeral services were held Friday at the First Baptist Church in Brandywine.
 Memorials may be made to the First Baptist Church in Brandywine, or South Fork Volunteer Fire Company. 
Memories and words of comfort may be left at www.basagic.com or on Facebook at Basagic Funeral Home.