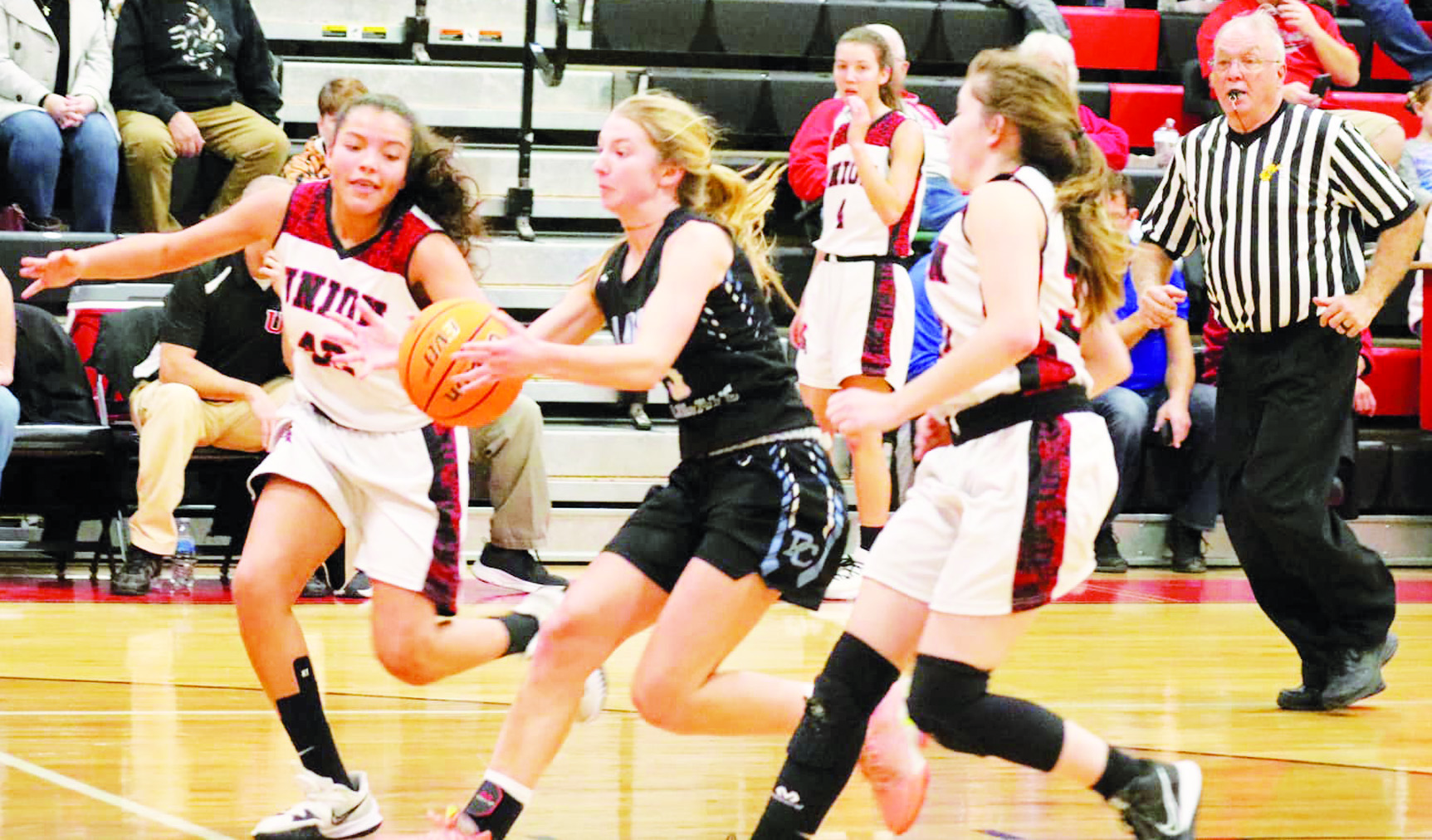 By Stephen Smoot
After a tough outing playing understrength against Moorefield in the opening rounds of the Tip Off Tournament in Petersburg, the Lady Wildcats rebounded well against a familiar foe.  Pendleton County upended Union again for the second time in as many weeks, this time prevailing 54-29.
The Wildcats took control early against the Tigers and never let up, taking the opening tip, then scoring quickly on a Gabby DePue putback of a missed shot. Coach Micah Bailey deployed the team in a man-to-man defense and full court press that pressured Union all night. In a patient and workmanlike style, Pendleton County carefully crafted a solid lead and never looked back.
Both DePue and Ana Young delivered effective games in the first quarter. DePue added a block to her initial layup and strong rebounding. Young pressured the defense by putting the ball on the floor and executing silky smooth moves to evade defenders and hit open shots. At 2:40 left in the first quarter, for example, she used a head fake to help bypass a defender before draining a 15-foot shot. She also frustrated Union with timely defensive plays to break up their fast breaks and offensive plays. 
In the first game against Pendleton County, Union worked the ball into their powerful post players who initially made a lot of plays on offense. In this game, Union passed the ball more around the horn than into the post, using outside shooting to try to counter Pendleton County's superior athleticism. They relied heavily on the scoring senior Isabella Harvey early to try to keep pace.
The Wildcats did not break free of the Tigers until the second quarter, however.  They took a slender 13-9 lead into the quarter, but saw Jameigh Miller drive and score a layup only 10 seconds in. Just over a minute later, Young swiped the ball from Union, missed her initial shot, but got the putback to give her team a 17-11 lead. 
Defense and rebounding fueled much of the Pendleton County game. As Coach Bailey explained, "we got up and got in their face. It definitely paid off, that extra bit of pressure."
At this point, the Pendleton County defense shut down the Union offense. Over the last six minutes of the quarter, the Lady Wildcats outscored their opponents 12-4. Baylee Beachler, Avery Townsend and Young each stole the ball at key points with Townsend and Young getting layups at the other end of the floor.
After halftime, Townsend continued to make plays on defense, including two steals in the first minute of the third quarter. Beachler also came off the bench to provide strong defense inside, including a block of a post shot. Young also continued her thievery of Union possessions, using a steal and layup to put her squad up 39-18 with less than four minutes left in the quarter. DePue also continued her block party, stopping a fast break with a block toward the end of the quarter. She also took a Lizzie Alt pass to the post to score a layup.
Coach Bailey's team kept their momentum headed into the final quarter with Young hitting a three-point shot to put her team up 44-25 with 6:26 remaining in the game. Only in the fourth quarter did Union try to exploit its size advantage inside on offense, although they mainly drew fouls rather than executing shots. This patient and time-consuming approach played into Pendleton County's hands with a 20-point lead.
The Lady Wildcat bench continued the onslaught when Coach Bailey pulled his starters about halfway through the final quarter. Julie Mongold buried a three pointer with three minutes to play. Scoring ended with a three-pointer from the right wing by Kiera Heavener, ending the scoring at 54-29.
Pendleton County travels to Spring Mills tomorrow night and plays Martinsburg at 2 p.m. Saturday. The Lady Wildcats host Tygarts Valley on Monday, beginning at 6:30 p.m.