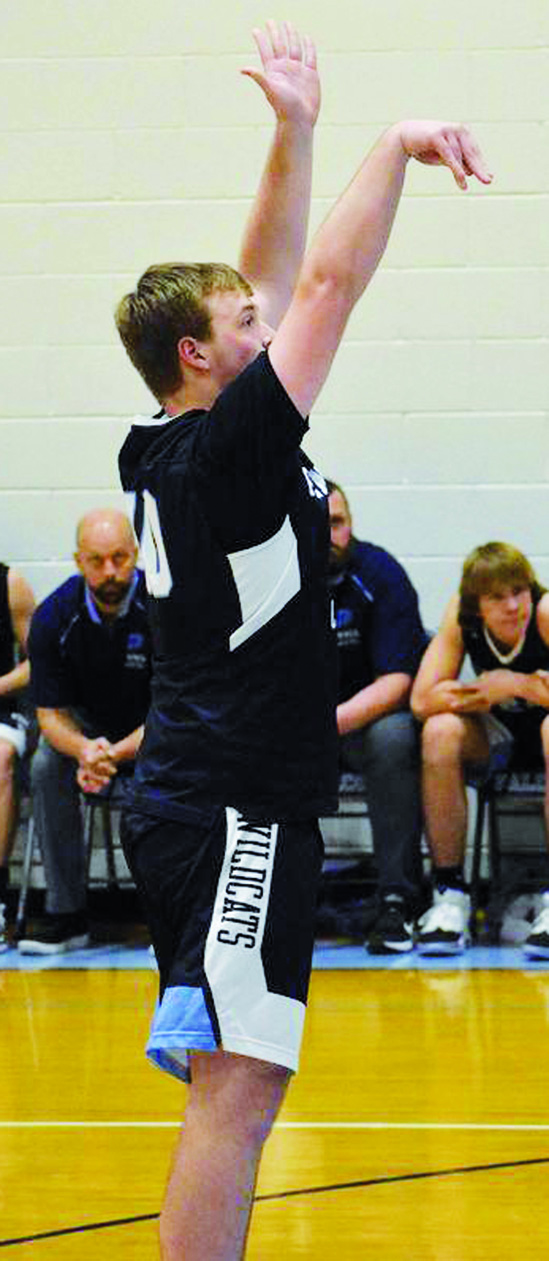 By Stephen Smoot
Pendleton County's boys basketball squad opened their season on the road last week at Keyser. The always tough Golden Tornadoes featured an experienced and athletic squad coached by Scott Furey, who coached a state championship track team for Keyser in 2016. Though always a tough out at home, Keyser needed its best game to defeat Coach Jeremy Bodkin's Wildcats.
The Golden Tornadoes started fast, controlling the opening tip and sinking a three-point shot 10 seconds into the action. Early on, Keyser looked to their big men to establish a presence in the paint with both scoring and rebounding while seeking high percentage shots beyond three-point range. 
In the first two minutes of action, Keyser staked an early 7-2 lead before the Wildcats responded. Josiah Kimble drained a three-pointer, followed by an offensive rebound and putback, then a steal by Clayton Kisamore led to a fast break layup. This gave Pendleton County its first lead at 9-7.
Both teams looked to push the pace. The Wildcats did so with an effective man-to-man defense and, later in the game, used a full court press while Keyser's athletes pushed the ball up the floor at every opportunity without deploying a full court press at all. This sometimes led to ragged play as both offenses tried to establish consistency. 
The Golden Tornadoes took advantage of Wildcat miscues as the first quarter ended, using a 13-2 run to close out the stanza. This run saw Keyser rebounding effectively and stymieing the Wildcat offense with steals. 
Pendleton County started the second quarter down by nine, but center Jacob Beachler made a statement immediately with a powerful shot block. Keyser then put Kisamore on the free throw line for two made shots. Every time the Wildcats saw Keyser surging in front, they found an answer in Kisamore – for whom the Golden Tornadoes had no answer all night long.
After about three minutes passed in the second quarter, the Wildcats pulled back into a tie. Brayden Beachler hit a key three-pointer, followed by another Kisamore bucket with an assist from Jacob Beachler.
The Wildcats also got strong play from their bench. Forward Zykijah Wright came off the bench to block a shot with about 4:30 left in the second quarter. His strength and athleticism helped to keep Keyser off the boards while also providing solid defense, especially at the post. Pendleton County closed the half down by two, 31-29.
Coach Bodkin said after the game that "we must take care of the ball better and box out." Early in the game, his team missed some opportunities to get rebounds and make plays. He explained, "We have to do a better job of coming out of the gate early."
Trying to pressure the Keyser ballhandlers, Pendleton County came out in the second half in a full court press. The team also did a better job keeping Keyser off the boards with even guards attacking the glass effectively for rebounds. The Wildcats allowed Keyser to stake an early four-point lead at 36-32 and spent much of the quarter eating away at it while the Golden Tornadoes did just enough to stay ahead. With 2:30 left in the third quarter, Chase Owens connected on one of two free throws to pull Pendleton County within one at 40-39, but Keyser followed that with a three-pointer.
The Wildcats went into the final quarter down 47-43. The rest of the game boiled down to Kisamore and the Wildcat offense finding ways to score and the Keyser defense executing well their defense against the Pendleton County fast break. Kisamore throughout the second half used his height advantage to break down Keyser's man to man, get close to the basket, and make plays. Jacob Beachler contributed with strong offensive rebounding, while Kimble continued to connect on long range shots.
With 1:07 left in the game, Keyser called a time out up 56-54. Thirty seconds later, Jacob Beachler dropped a turn around jump shot close to the rim to tie the game at 56. Undeterred, Keyser put the ball in the hands of their big center with time running out. Although well-defended, the shot dropped and Keyser escaped with their first win of the season.
After the game, Coach Bodkin praised his team's overall effort, saying "they played hard." He added, however, "Give credit to Keyser. They were ready to play."
Kisamore led all scorers with 20 points, followed by Kimble with 11, Brayden Beachler with eight, Dusty Smith with six, Owens with five, and Jacob Beachler and Dustin Vandevander each with three.
The Wildcats traveled to Frankfort last Thursday night. Kisamore scored 30 and Kimble 14 as they routed Frankfort in Short Gap 75-43. Also scoring was Jacob Beachler and Smith with seven a piece, Owens with six, Vandevander with five, and Brayden Beachler and Evan Teter each scoring three.
Results from Tuesday's game against East Hardy were unavailable at press time.
The Wildcats host Tygarts Valley on Friday and travel to Tucker County on Dec. 21.