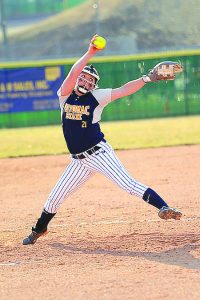 By Shawn Stinson 
Former Pendleton County softball standout Taylor Townsend helped lead Potomac State College to the National Junior College Athletic Association Division II softball championship. 
Potomac State downed Hagerstown Community College 15-6 on May 14 at Anne Arundel Community College in Arnold, Maryland. The Catamounts earned the NJCAA Region 20 crown for the second consecutive season. It was the 35th-straight victory for Potomac State. The Catamounts are now 41-2 on the season. The national tournament is slated to begin on May 24 in Oxford, Alabama. 
Townsend slugged a home run in the bottom of the fourth of the regional championship clash against HCC. She finished 1 for 3 with three runs batted in and scored two runs. Townsend pitched two scoreless innings, walking one. 
"I'm excited for the girls that they have an opportunity to experience playing in the national championship tournament," Potomac State coach Craig Rotruck said. "Everyone worked hard all year long for this win today … for this trip to Alabama. I couldn't be prouder of these women. All 16 players played a part, everyone earned this." 
HCC jumped out to a 2-0 lead in the top of the first inning before Potomac State rallied to scored eight runs in the bottom of the frame. The Hawks cut into the deficit by plating three runs in the top of the fourth. Once again, the Catamounts quickly responded by scoring four runs in the bottom of the inning. HCC scored a single run in the fifth. Potomac State had an answer again, responding with three runs in the bottom of the fifth. 
Townsend hurled Potomac State into the championship clash by blanking HCC the day before in a semifinal contest. She pitched five innings, allowed four hits and struck out five in a 11-0 victory. 
Townsend helped her own cause at the plate, recording two hits in three at bats. She slugged a two-run home run in the bottom of third inning and added a run-scoring single in the bottom of the first. 
It was Townsend's 18th victory in the pitcher's circle this season. She has reeled off 18 consecutive victories since dropping a season-opening decision to Cleveland Community College in late February. 
Townsend was the offensive star in Potomac State's tournament-opening 3-0 victory against Anne Arundel Community College. She was 2 for 2 with two RBIs in the win. 
She had a run-scoring double in the bottom of the first and a run-scoring single in the bottom of the third.