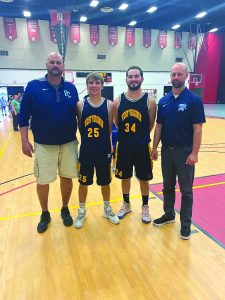 By Shawn Stinson 
Pendleton County boys basketball standouts Cole Day and Tanner Townsend were participants in the 40th annual All-Star Classic at Frostburg State University in Frostburg, Maryland. 
The West Virginia squad pulled out an 83-61 victory against the Maryland team on April 25.  
Day scored 12 points and Townsend added 11 in the victory. The West Virginia team was led by Zack Hill of Hampshire, who netted a team-high 22 points. Frankfort's Bryson Lane chipped in with 13. Coleman Mongold of Moorefield and Slade Saville of Petersburg both contributed eight points. 
Nate Washington of Mountain Ridge netted a team-leading 22 points for the Maryland squad. Collin Lowry also from Mountain Ridge added 13 points in the loss.  
West Virginia led 39-33 at halftime before outscoring Maryland by 16 in the second half. 
Hill and Washington were selected as the game's most valuable players.