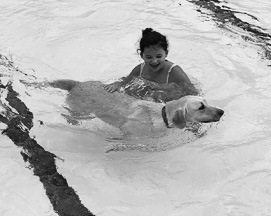 Pendleton Animal Welfare Shelter and the Franklin Town Pool hosted the 10th annual Dog Swim on a beautiful afternoon Aug. 22 in the Franklin Town Park. As the water slowly emptied from the pools at the close of a fun-filled summer, a gang of water-loving dogs joined their own pool party, competing to see who could make the biggest splash. The event made a splashy finale to the hot summer.
The swim is a summer fundraiser for PAWS' pet rescue and adoption programs, as well as for the Mary Evelyn Neville dog and cat spay/neuter programs. PAWS is currently able to offer low-cost or free spay and neuter for dogs and cats through the summer, until the state grant runs out. Anyone who would like to take advantage of this offer should call Faithful Friends Veterinary Clinic at 304-358-2360 to arrange surgery dates as soon as possible. The kittens are coming.
Swim pros like the Vincells' pointer, Kate, and Chris and Beth Kirk's chocolate lab, Cali, showed the newbies how it is done. Kate has led the way into the pool each year from the initial Dog Swim. Kevin Smith's white lab, Katie, and Chloe Simmons' Lily, a yellow lab, were naturals, while small dogs Michelle Simon's Ollie, Holly and Dave Hubbs' newest family member, Maggie, and Heidi, Amelia Huffman's brave little Frenchie, eased into the toddler pool before testing out the deeper waters.
More people are encouraged to consider being lifeguards next summer at the town pool. The town office can arrange lifeguard training, and it is a fun summer job that serves the community.
PAWS board member Kristin Dingess noted the importance of the community support PAWS receives from such organizations as the pool, Pendleton Community Bank, Bowers Garage, Main Street Methodist Church, Kimble Funeral Home, Kar Kare, Swilled Dog Cider, and the Pendleton County Commission. Warner's Drive-In recently asked patrons to donate pet food for a popcorn coupon, and generous moviegoers brought several hundred pounds of kibble for PAWS' hungry pets.
Dingess said, "PAWS is very grateful for the caring community that helps us help the animals. Dr. Sarah Bowers at Faithful Friends has stepped up for us time and again, and all our foster homes, donors, members and volunteers, we can't thank enough for all you do for the people and their animals we are able to help, all year 'round."
Watch for the announcement for our open annual meeting this fall, visit the PAWS Flea Market booth on Saturdays and please volunteer, foster, donate, adopt through our Voicemail at 304-358-3644 or on Facebook."