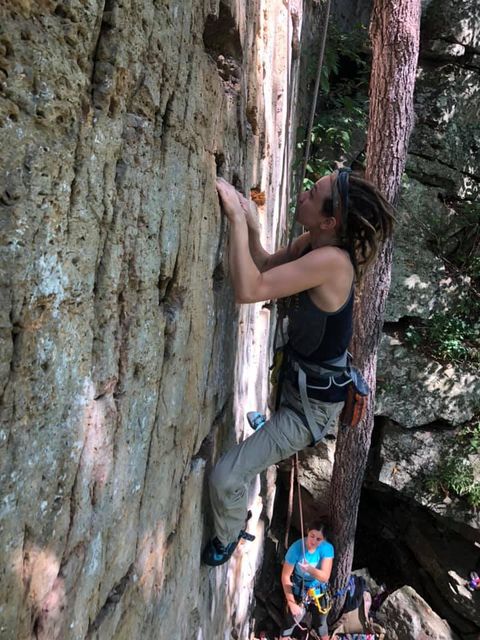 By Stephen Smoot
"Completed legislation."
This phrase, as applied to HB 3560, created a cause for celebration among those determined to elevate Pendleton County rock climbing as a premier adventure sports experience. It meant that a crucial piece of area tourism plans may now fall into place.
Introduced and solely sponsored by Gary Howell, House Chair of Economic Development and Tourism and delegate from Mineral County, the bill officially expands a 1931 state law defining "land" and "recreational purposes." Recreational purposes now include rock climbing, rope related sports, and "bouldering activities." 
The most crucial effect lies in allowing landowners to opt into arrangements "that would take away liability from the landowner if injury occurs."  In other words, if a private landowner wanted to allow access to a rock formation on his or her property, they could allow climbers if they will waive liability. Rock climbing would then fall under the same "assumption of risk" category that keeps a person from suing a major league baseball team if they get injured by a foul ball.
"It's actually a bigger deal for private landowners than anyone else," says Laura Brown, Pendleton County Economic Development Authority director. She went on to say that "what we are hoping is . . . we will be able to then speak to landowners with rock formations on their land about allowing people to use their rocks."
Legislation represents the first step in the process to unlock more of Pendleton County's rock climbing treasures. Seneca Rocks, Reeds Creek, and Smoke Hole Canyon currently offer superior experiences on public land. Access to private lands can help to offer a more diverse and even, possibly, customized, experience. 
Brown speculated that efforts to boost rock climbing and related sports in the area could involve non-profits such as the Access Fund. This organization, according to its website, "was founded in 1991 to fight for legal and physical access to the places we love to climb." Additionally, "we must work to manage our impacts, instill a conservation ethic within the climbing community, and collaborate with land managers and lawmakers to ensure that we are able to enjoy these places for generations to come."
This organization has already worked on opening sites in Monongahela County and also the New River Gorge area.
The legislation germinated last year with the EDA's attorney Josh Jarrell, who wrote up the bill. According to Brown, since the writing of the bill, the American Alpine Club, West Virginia Tourism and West Virginia University's Outdoor Economic Development Collaborative worked in "further developing and supporting the bill." The OECD exists to use "West Virginia's outdoor assets to ignite the economy, develop world-class recreational infrastructure, and expands outdoor educational opportunities."
Last year, the economic development authority and the county commission developed a plan to promote rock climbing as a flagship activity in marketing the region. While Pendleton County shares breathtaking scenery and outdoor activities, such as fishing and hiking, with almost every county, Pendleton is one of the few counties that offer world-class rock climbing sites.
As Brown explained, "tourism and outdoor recreation play a huge role in Governor Justice's agenda. This will add not only to Pendleton County's economy, but also our neighboring counties, like Grant and Hardy."