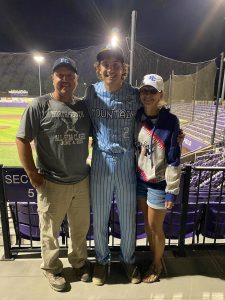 By Stephen Smoot
The 2023 baseball season is in the books, but Pendleton County head coach Sam Yokum's thinking remains focused on both how to help his players to reach the next level and his Wildcats' efforts to claw back into the elite of West Virginia single A.
This month, graduating standout Clayton Kisamore took two opportunities to demonstrate his prowess and leadership to college teams looking for a versatile and hard-working team member.
First, Kisamore competed in the North – South series, sponsored by the West Virginia Baseball Coaches Association. Teams bringing the best seniors from across the state played on the campus of George Washington High School in Charleston.
Playing in both games, Kisamore went one for three at the plate, earned two walks, and scored two runs. He pitched one inning, while also playing centerfield, second base, and first base.  Yokum said, "It was a really good experience for him."
He added that "we've had players from Pendleton County to be nominated to play in the North – South game for 20 years," although COVID interfered with playing of the game during the pandemic.
Kisamore also played in Coaches USA All Star Series played on the campus of James Madison University in Harrisonburg, Virginia. The series includes both baseball and softball, drawing from the Shenandoah Valley and nearby areas. 
In baseball, only one competitor, Kisamore, hailed from West Virginia. Two East Hardy players competed in softball. His "Mountain All Stars" squad prevailed 12 to 8 in the game. Kisamore walked and scored a run, playing centerfield, third base, and shortstop.
Yokum praised the organization holding the games in Harrisonburg. Players received a uniform to keep, as well as a T shirt and a cap. After the practices the previous day, all players and parents were fed dinner.  None of the experience came at any cost to the players, not even the gear received.
As Kisamore competes to show off his skills and versatility to potential college coaches, Yokum also praised James Vincell who joined an American Legion team based in Keyser.
"You make yourself a player in the off-season," Yokum explained. 
American Legion ball provides an off-season "big stage" opportunity where players learn "to fight through adversity." Yokum explained that "there's nothing like that game pressure.  Playing in these leagues, as long as it's not overdone "makes you more competitive when the season rolls around."
He expects that added game experience "will help James." The coach said that in the 2023 season, the team "made huge strides from the year before. On a given night, we can play with anyone." Experience also breeds the kind of mental toughness that can help individuals and the team to limit mistakes and maintain focus regardless.
Yokum, who has coached various sports a total of four decades, mused that "I wasn't satisfied with this year, but it's as enjoyable a year as I've ever had."
He explained by saying that, "Clayton had a very good high school career and it has been a real pleasure working with the seniors and parents this year. The parents were loyal and the players were too."
Yokum concluded with, "as long as I feel like I can lead kids, I'll keep going."