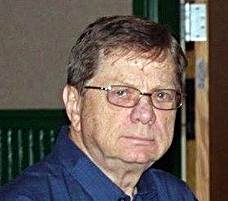 Stephen Lee Feagans, 77, of Circleville passed away Aug. 1, 2023, at Sentara RMH in Harrisonburg, Virginia.
He was born on July 15, 1946, in Washington, DC, the son of the late Stanley and Carrie Lee (Feagans) Hayes. 
Mr. Feagans attended Anacosta High School and Circleville United Methodist Church. He was a Vietnam veteran of the U.S. Army AC, 82nd Airborne division. He acquired his electrical education during his time served in the Army and later became a certified electrician. He applied his expertise as a master electrician while being employed by Naval Research Lab in Washington, DC, and later retiring from Sugar Grove Naval Base, where he had worked from 1985 – 2001. 
He enjoyed riding his motorcycle and spending time with his family. He dedicated his time to operating Town and Country Electrical and Inspection, serving the state of West Virginia. 
On June 24, 1967, he married Charlotte Lee (Lambert) Feagans, who survives. 
In addition to his wife, he leaves behind to cherish his memory a daughter, Cheryl Laboy (Miguel) of Woodsboro, Maryland; a son, Greg Feagans (Danielle) of Bayfield, Colorado; 10 grandchildren, Kory, Kaleb, Kortlyn, and Kilian Feagans, Xavia and Tegan Hahn, Lauren and Cian McFarland, Gabriel and Nicholas Laboy; a half sister, Deborah Cressel (Steve) of Waynesboro, Virginia; and a half brother, Jim Hayes (Sharon) of Vienna, Virginia.
He was also preceded in death by a granddaughter, Kenna Feagans; and two half brothers.
Funeral services were held Saturday at the Basagic Funeral Home in Franklin with Pastor Michael Lambert and Pastor Shirley Bland officiating. Interment was in North Fork Memorial Cemetery in Riverton with military honors conducted by the U.S. Army, Camp Dawson.
Memories and words of comfort may be left at www.basagic.com or on Facebook at Basagic Funeral Home.