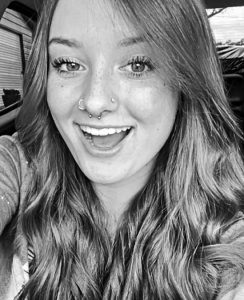 Sara Elizabeth Monger, 18, of Elkton, Virginia, passed away Oct. 28, 2023, in Harrisonburg, Virginia, from injuries she received during an automobile accident. 
She was born Sept. 6, 2005, in Harrisonburg, Virginia, and was the daughter of Timmy and Jessica Turner Monger.
Miss Monger loved to hunt and fish and was graduated from East Rockingham High School this spring where she excelled at softball and basketball and was a member of the Future Farmers of America. She was in her freshman year at Eastern Mennonite University where she played on the softball team. She showed her prize hog at the Rockingham County Fair and was grand champion in 2018 and 2023. She had such a beautiful soul, she was truly "one of a kind." 
Besides her parents she is survived by her paternal grandparents, Tommy and Cynthia Dofflemyer Monger; paternal great-grandmother, Marie Dofflemyer; aunt and uncle, Elizabeth and Michael Myers; cousins, Luke and Jacob Myers; maternal grandparents, Billy and Joanne Turner; maternal great-grandparents, Richard and Joan Lambert; maternal great-grandmother, Betty Turner; aunt and uncle, Jennifer and Mike Baugher; cousins, Emerson and Grant Baugher; many many friends and teammates that she loved dearly.
She was preceded in death by her paternal great-grandfather, Clark Dofflemyer; her great-aunt, Melinda Dofflemyer; paternal great-grandparents, George and Letha Monger; and maternal great-grandfather, Jennings Turner.  
The family will receive friends 5 to 8 p.m., Friday at the Kyger Funeral Home Chapel in Elkton, Virginia.
Rev. Ellen Hensley Martin and Rev. David Burrell will conduct the funeral service at 1 p.m. Saturday in the funeral home chapel. Burial will follow in the Elk Run Cemetery in Elkton, Virginia. 
Memorial gifts may be made to the East Rockingham FFA, East Rockingham Athletic Department or to the Eastern Mennonite University Softball Team. 
Condolences may be shared at www.kygers.com.