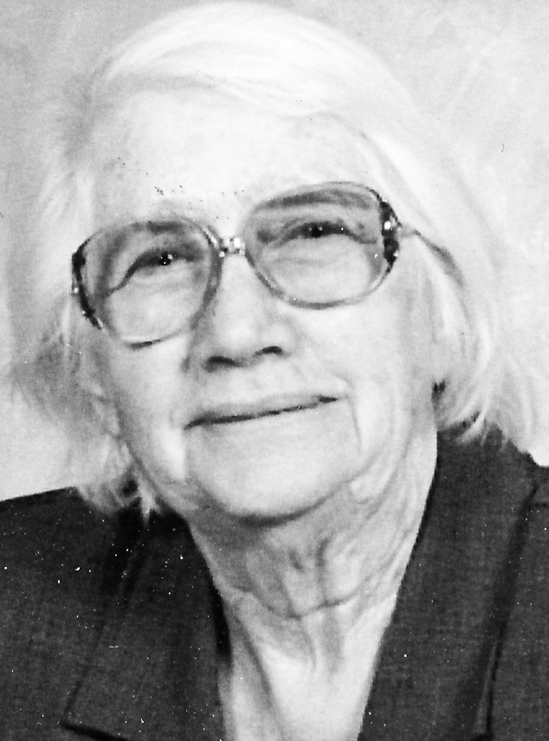 Ruth Marie Moyers, 95, of Sugar Grove passed away Dec. 31, 2022, surrounded by family at the home of her son.
She was born Nov. 1, 1927, a daughter of the late Oscar Ray and Mary Catherine (Kesner) Thorn. 
A Christian, Mrs. Moyers was a member of Totten Chapel United Methodist Church, where she enjoyed attending the Methodist Women's group. She also held membership with the VFW Post 9666 Ladies Auxiliary and Pendleton County Farm Bureau.
A homemaker and farmer, she enjoyed raising beef cattle, dairy cattle and sheep. She loved her flowers, tending to her garden, sharing her bounty, as well as cooking for her family and friends. She enjoyed backroad traveling and speaking with numerous friends over the phone. A local historian in her own right, she held special interest in family genealogy and cemeteries.
She will also be remembered for being so attentive to her grandchildren, oftentimes picnicking with them, going on deer drives, feeding baby lambs and calves and sharing her love of cooking. Above all, she will be remembered as a selfless individual with a strong work ethic, who always placed her family's needs above her own.
On July 2, 1949, she married Rembert Dewey Moyers, who predeceased her on June 19, 2008.
Surviving are daughters, Sarah Moats of Verona, Virginia, Brenda Daniel and husband, David of Parkersburg, Caroline Sponaugle and husband, Jim of Doe Hill, Virginia, and Sheba Crouse and husband, Ernie of Green Spring; sons, Dewey "Dean" Moyers, Sr. and wife, Shirley of McDowell, Virginia, Scott Moyers and wife, Shari of Moyers, and Kevin Moyers and wife, Kimberly of Hot Springs, Virginia; sisters, Lucy Seymour of Harrisonburg, Virginia, Goldie Showalter of Timberville, Virginia, Anna Lee Alt and Mary Faye Kile, both of Upper Tract, and Catherine Lantz and husband, Eugene of Broadway, Virginia; sister-in-law, Sue Thorn of Keyser; grandchildren, John Moats, Kimberley Hohenstein, Dewey "D.D," Brian "Bubba," Joshua, Isaac and Emily Moyers, Amanda Anderson, Tina Tidd, Andy, Timothy and Nathan Daniel, Michael and Matthew Sponaugle, Cathy James, Cora Via, Laura Fears, Erin and Starsha Crouse; great-grandchildren, Tyler and Blake Hohenstein, Shawn, David, Kim and Gabriella Arnott, Dewey, Briannah, Jack, Hugh, Ruthi, Daisy and Kaleb Moyers, Hunter, Alex, Dalton, Chloe, Brooklyn, Madalyn and Alana Daniel, Isaac and Ryan Parsons, Jasper, Clu, Michaela and Eleanor Sponaugle, Caitlyn, Daniel and Abigail James, Brody, Violet and Eli Anderson, Kera, Johnnie and Dakota Tidd, Wanda, Hunter and Dustin Maddox, Kylee and Shawn Offer and Cryspin James and Theodore Nystrom; great-great-grandchild, Ava Arnott; as well as four special friends, Virginia Propst, Audrey Arbogast, Myrtle Rader and Wilma Obaugh.
She was also preceded in death by a brother, James Arnold Thorn; a son-in-law, Roger Moats; a granddaughter, Megan Crouse; great-grandchildren, Makayla and Makenzie Daniel; brothers-in-law, Dick Seymour, Kay Showalter, Herman Alt and Arlin Kile. 
The family will receive friends from 6 – 8 p.m., Friday at the Obaugh Funeral Home in McDowell, Virginia.
A funeral will be held at 11 a.m. Saturday at the funeral home with Pastor Hannah Lee officiating. Burial will follow in Doe Hill Cemetery.
Her grandchildren will serve as pallbearers.
Memorial contributions may be sent to Totten Chapel United Methodist Church, c/o Tom Kimble, 7107 Upper South Branch Road, Franklin, WV 26807.
Condolences and memories may be shared with the family at www.obaughfuneralhome.com.