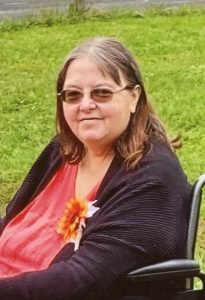 Rose Ann (Thompson) Arbogast, 63, of Cabins went to be with the Lord on May 10, 2022, in Nella's at Autumn Lake Healthcare in Elkins, after a courageous battle with cancer.
She was born on Aug. 6, 1958, in Elkins and was a daughter of the late Hansel Worth Thompson and Ronna Grace (Long) Thompson.  
Mrs. Arbogast was a graduate of Circleville High School class of 1977.  She was employed at Hanover Shoe Company, Canaan Valley Restaurant, 4-U Restaurant and Smoke Hole Caverns and retired from Allegheny Wood Products.  
She loved being with her family and taking trips to the beach.  She enjoyed sitting on her porch watching the birds and her cat. She collected trolls and roosters.  
Her husband, Timothy Arbogast, preceded her in death in 2020. 
Surviving are three sons, Timothy Allen Arbogast and wife, Shandi of Harman, Bryant Lynn Arbogast and wife, Kristie of Job, and Ronnie Worth Arbogast and wife, Ashley of Franklin; a step-son, Timmy Blizzard and wife, Stephanie of  Harman; 11 grandchildren, Katie Viands and husband, Jarred, Bryant "B. J." Arbogast, Jr., Braxten Arbogast, Ronnie "R. J." Arbogast, Jr., Ashten Arbogast, Selena Arbogast, Natalia Arbogast, Kingston Arbogast, Levi Phillips, Layla Phillips and Lilly Phillips;  four great-grandchildren, Oaklynn Viands, Axton Bennett, Heartlynn Arbogast and Waylon Viands;  two sisters, Edna Mullenax and husband, Harold of Circleville, and Penny Murphy and husband Doug of Alexandria, Virginia; and several nieces and nephews.
A graveside service was held in the Long Family Cemetery Corner Road in Cabins with Pastor Harold Mullenax officiating.  
Memorials may be made to the family, c/o Timothy A. Arbogast, PO Box 168, Harman, WV 26270.  
Online condolences may be left at www.schaefferfuneralhome.com.