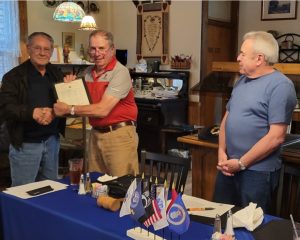 Submitted by Jack Bowers
 On April 13, David G. McConnell of Deer Run, a member of American Legion Post #30, received his 50-year membership award, issued in grateful appreciation for faithful and dedicated allegiance to the ideals of The American Legion.  The award was presented by Post Commander Steve Conrad.
Also in attendance was Gene McConnell, who is a member and the financial officer of American Legion Post #30, and David McConnell's brother.  
David McConnell served three years in the U.S. Army specializing in ordinance.  From November 1967 until November 1968, he served in Vietnam and was involved in the Tet Offensive.
The American Legion is a nonpartisan, not for profit, organization and was chartered and incorporated by Congress in 1919 as a patriotic veterans' organization devoted to mutual helpfulness.  It is the nation's largest wartime veterans service organization.  Veterans who served since Dec. 7, 1941, and were honorably discharged, or are still on active duty, are eligible for membership.  
The Post meets at 6:30 p.m. on the second Wednesday of every month at the Star Restaurant in Franklin.   
For more information about Post #30 call Conrad at 304-249-5694, Vice Commander Jack Bowers at 304-358-3886, or any Post member for more information.