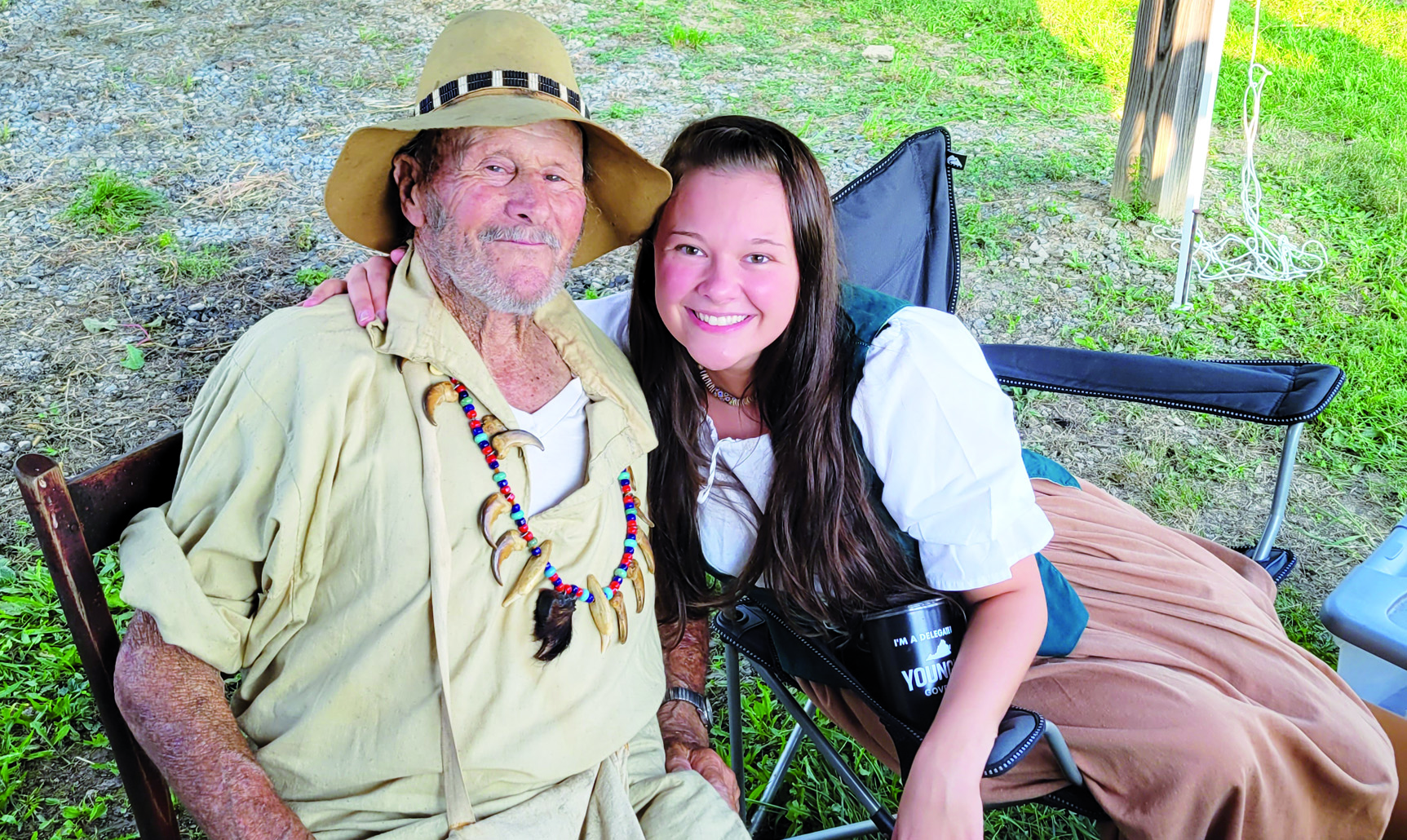 By Stephen Smoot
"Are the Indians going to win again this year," a spectator jokingly asked a re-enactor as he prepared to take the field for the performance.
"I don't know," the man drawled in response, "but history does tend to repeat itself."
The re-enactment of the burning of Fort Seybert this year entered its third decade of performance. With the accomplishment that comes from any live play running for 30 years came a powerful loss to the organization that runs the event yearly. 
Jed Conrad, one of the chief pillars of the performance, passed away only weeks before the Treasure Mountain Festival.
Last year, Conrad manned a booth selling t-shirts and other merchandise. He shared last year that his ancestors "farmed, ran livestock, ran the mill, and did everything required by early settlers to survive here." Conrad and the re-enactment team placed a premium on complete historical accuracy. He explained that the play "tells the true history of Fort Seybert and the true things that happened."
Dana Keplinger, who ran a booth offering handmade jewelry, remembered that "I always brought Jed cookies or cupcakes. This year, I gave it to his family." She added, "I'm so proud of what Jed did," in bringing forward "living history."
Prior to the start of the performance, organizers prayed and asked for a moment of silence to his memory.
Susan Melendez, a re-enactor and one of Conrad's daughters, remembered growing up with a father devoted to teaching history. She said, "Our ancestors have been on this piece of land for over 250 years, and some were in the fort that day."  Melendez talked about being inspired to bring history alive even as a child, remembering "as a child I played 'dress up' with my sisters and often re-enacted our imagined scenes of how life was long ago." Inspired by her father and the landscape of her upbringing, she taught history for 25 years.
Re-enactors descend from both the original settlers and also the Delaware Indian Nation, from which war chief Killbuck and the other attackers of the fort originate. The play begins with a Delaware song and the narrator takes pains to say "these descendants are a living testimony of the perseverance and courage of their forefathers."
Melendez remembered her father taking the same pains to teach that history always includes different perspectives.  She said that history should be taught and told "from multiple perspectives…not just the 'winners'…my dad helped to make that clear to me."
Joe Ferrell, son-in-law of Conrad, remembered him as "such a storyteller," adding that "a lot of people cherished the stories he could tell."
Beyond an endless repertoire of historical tales, Conrad did much to support the reconstruction of Fort Seybert, as well as the re-enactment of its burning. As Ferrell explains "He did everything," including "making sure the water ran properly, making sure supplies were in for shooters." 
Conrad also played a key role in the development of "the primitive camp" into the massive event it evolved into. Melendez said "he was an integral part of keeping the primitive part sacred." The camp started in Franklin, but moved first to near where the current state police barracks are. 
Around 30 years ago, the group moved the primitive aspects out to the Fort Seybert site, where it remains today.  She added that "the Killbuck Rifleman Club was born," perpetuating the ideal of "the historical integrity of French and Indian War re-enacting."  Conrad then turned to reconstructing the fort itself. "He completed the blockhouse," Melendez said, "but we still have work to do. We will carry on with his vision." 
Although he turned some duties over to others in his later years, Ferrell and others remembered that "everyone loved his breakfasts of bacon, fried eggs, and fried bread." But, "his presence was most valued in getting to sit and listen to the stories. I wish we had captured some of his stories by video."
One of the great characteristics of the re-enactment lies in the inclusion of so many children, both in the performance and the audience. Ferrell observed that "I'm glad to see there's so many young people here." 
Ferrell's wife Aimee, who is also a daughter of Conrad, added that her father "was very much about educating children. Growing up here, you're immersed in the historical events. He was always teaching us things." She remembered her father teaching them "how to throw a tomahawk at a very young age. Often, dad's friends would come over to enjoy those backyard competitions."
Conrad also created history in a sense with his own two hands. Melendez noted that "he was always making primitive replicas of the past and signing them with his Thundercloud symbol. I spent countless hours watching and trying to 'help' him with his creations." Conrad also demonstrated the making of lead balls for muzzleloaders both at home and at TMF.
The play ends with Delaware Indians leading their confused and terrified prisoners northwest toward current Beaver County, Pennsylvania. Remarkably, almost all of those who survived the attack eventually made it back to their homes. 
As the 30th year of the re-enactment drew to a close, sunlight faded, the fire in the replica fort began to die down, and the audience made its way to their cars. The history of the event, creating an accurate and dramatic portrayal of past events, enjoyed by many hundreds of people, continues to repeat itself.
Most would have wonderful stories to tell of what they saw, experienced, and enjoyed that night, unknowingly carrying on one of the great traditions of the event, established in part by Jed Conrad.