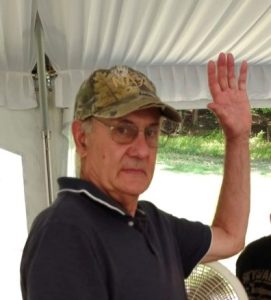 Ray Dayton Dove, Jr., 70, of Petersburg, passed away at his home surrounded by family on June 8, 2022, after a courageous battle with cancer.
He was born Nov. 4, 1951, in Grant County, the son of the late Ray and Regina (Turner) Dove.
Mr. Dove graduated from Petersburg High School in 1969 and attended Shepherd College.
He was an avid outdoorsman who loved to hunt and fish. He built a successful business, Dove's Fur, Ginseng, Medicinal and Botanicals, where he was a certified ginseng specialist. He was an expert in West Virginia's harvestable and marketable flora and fauna and conducted business all over the world. He loved hitting the road, meeting new people and sharing his knowledge of plants, fauna and wildlife.       
A lifelong resident of Petersburg, he was a member of the West Virginia Trappers Association and supported West Virginia University Extension's Energy Express summer reading and nutrition program for local youth.
Surviving are three sisters, Teresa (Teri) McLaughlin and husband, Bob of Daniels, Mitzi Groves and husband, Jim of LaVale, Maryland, and Gina Hart and husband, Steve of Ashland, Virginia; an uncle, Alton Dove of Riverton; two nieces, Melissa Curtis of Mechanicsville, Virginia, and Tara Curtis of Morgantown; three nephews: Brian Groves and wife, Joyce of Cumberland, Maryland, and Turner and Kellen Hart of Ashland, Virginia; a great-niece, Julia Raye Groves; and many cousins.
He was also preceded in death by an infant brother, Dick Alden Dove.
Interment in North Fork Memorial Cemetery in Riverton was private.
The family would like to thank Grant Memorial Hospice, his dear friend, Joyce Hayes, and family members, Lisa and Steve Turner, for their care and comfort during this difficult journey.
Memorial donations may be made to the American Cancer Society or West Virginia Trappers Association.