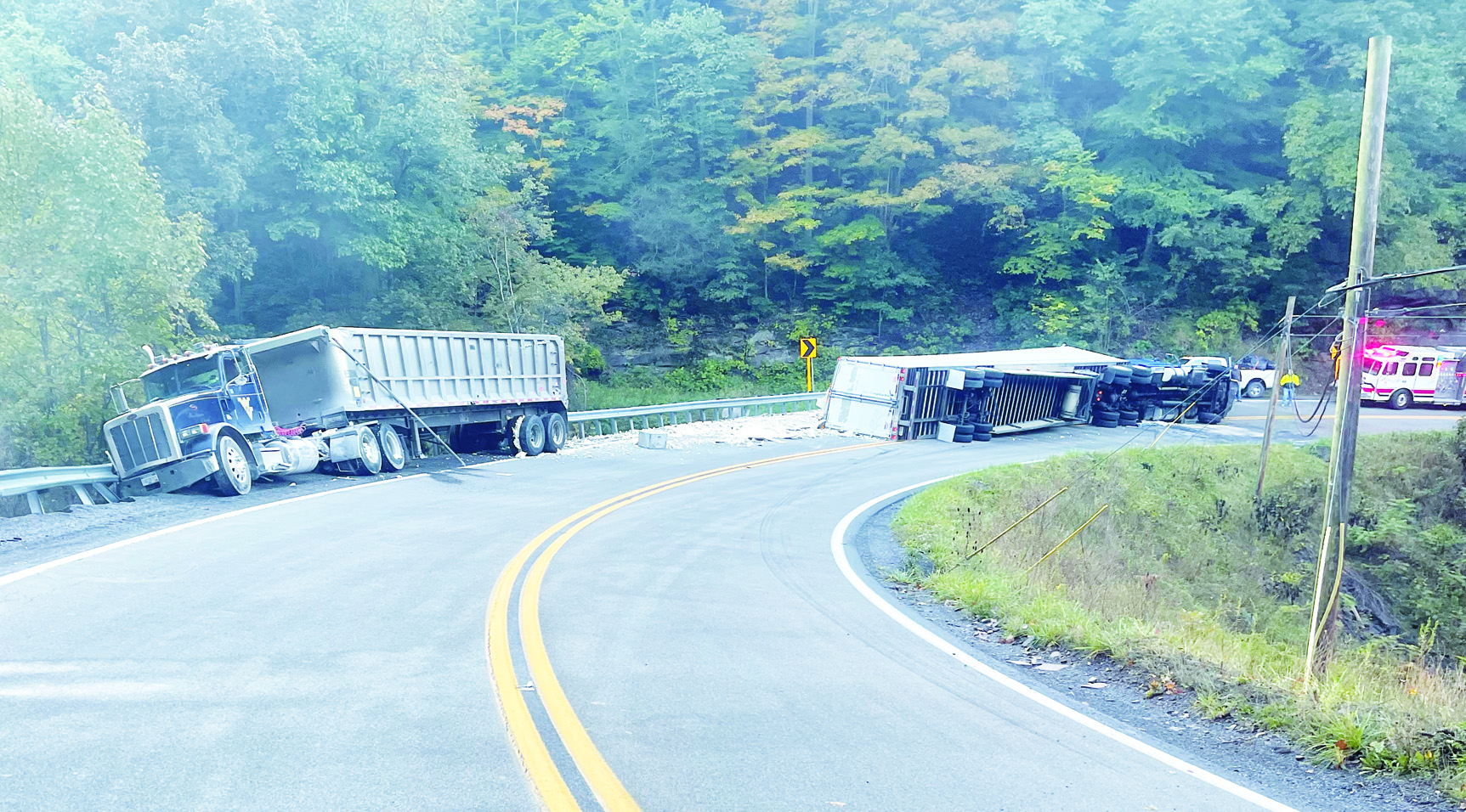 By Stephen Smoot
Last month, the West Virginia Department of Transportation announced plans to improve safety conditions on U.S. Route 33 on the mountain west of Seneca Rocks. 
According to a press release from the WV DOT, "The project will build a large retaining wall and install reinforced guardrails along a steep hairpin turn on US 33 as it descends Allegheny Mountain in Pendleton County. The guardrail project is intended to keep vehicles from going off the side of the mountain."
Guardrails will align on both the front and back of supports. Plans include sinking supporting posts deeper into the ground to handle potentially heavier trucks, since they do sometimes lose control on the steep grade and curvy road.
"This section of road has a historically high crash rate," said Jason Foster, P.E., West Virginia Department of Highway chief engineer of development in a press release. "We're trying to reduce those crashes by installing a barrier."
Rick Gillespie, Pendleton County emergency services coordinator, responded to the planned construction in a letter to James Rossi, state department of transportation commissioner.   
According to Gillespie, the plan offers solutions to only one of the three most dangerous curves on Allegheny Mountain. He wrote, "Not all trucks are in runaway mode by the time they reach 'Dead Woman's Curve' where the DOH now plans to build the barrier around the curve.  While this may, or may not help in alleviating some of the fatal crashes, it does nothing to address the crashes that occur on the downhill Horseshoe Curve and the one below it."
The most immediate danger, according to Gillespie, however, comes from the construction plan itself. He stated, "The primary reason for my communication is due to the notation of temporary traffic signals in the construction contract proposal." He pointed out that the grade uphill from the proposed temporary traffic lights creates ideal conditions for runaway trucks.
He added that "the likelihood of a truck not being able to stop for traffic stopped at a red light is huge. Both motorists and construction workers could be at risk in such a scenario."
"The real fix for this mountain is a large-scale project of entirely new road alignment, including adequate safety features such as the Catch-Net System," says Gillespie, who also suggested that traditional truck runaway ramps would work as well.
Such a system has proven itself in Wyoming. Two years ago, according to Big Horn Radio Network news in that state, such a system on U.S. Route 16 saved lives. 
The highway, described as a "perilous, windy road with a steep grade," runs through some of the most rugged country in the Rocky Mountains.  On July 7, 2021, a semi-truck loaded with an industrial clay called bentonite lost control on a downhill slope. The driver, fortunately, had access to a Catch-Net truck arrestor system. 
A truck arrestor adds an extra element of safety to a runaway truck ramp. The system includes a long and narrow ramp with between eight and 10 cable nets designed to arrest the motion of the truck in such a way as to protect other vehicles, but also the driver.
According to the Big Horn Radio Network, "they are typically installed on mountain passes or highway routes with a steep grade of six percent or more."
Wyoming's Jackson Hole News and Guide in the same month reported that tests on the truck arrestor showed that it could easily halt a 60,000-pound truck moving at 60 miles per hour. Arrestors are designed to stop a 90,000-pound vehicle moving 90 miles per hour.
In 2021, the price of each cable net used in Wyoming's system was $13,000.
According to the WV DOT release, "in cases where a bid is above the engineer's estimate, WVDOH must consider the project need, repercussions of not awarding the project, additional funding sources, and whether sufficient reasons exist for the differences in estimates."
In other road improvement news, a long discussed "safety hazard," as Gillespie described it to WHSV News in Harrisonburg, Virginia, has been removed. Sharp curves on US 33 have long bedeviled emergency response units, tractor trailers, and other travelers. 
Ken Slack, Virginia Department of Transportation communications specialist, said to WHSV of the improvement project that "it's between Switzer Lake Road and the West Virginia line . . . there's a rock outcropping that makes it tough for some of the full-size tractor trailers to make that curve."
He also shared that VDOT will next work on "four particularly tricky curves and also installing a truck climbing lane going up the hill in the westerly direction." 
Gillespie had said to WHSV that "we desperately need climbing lanes."