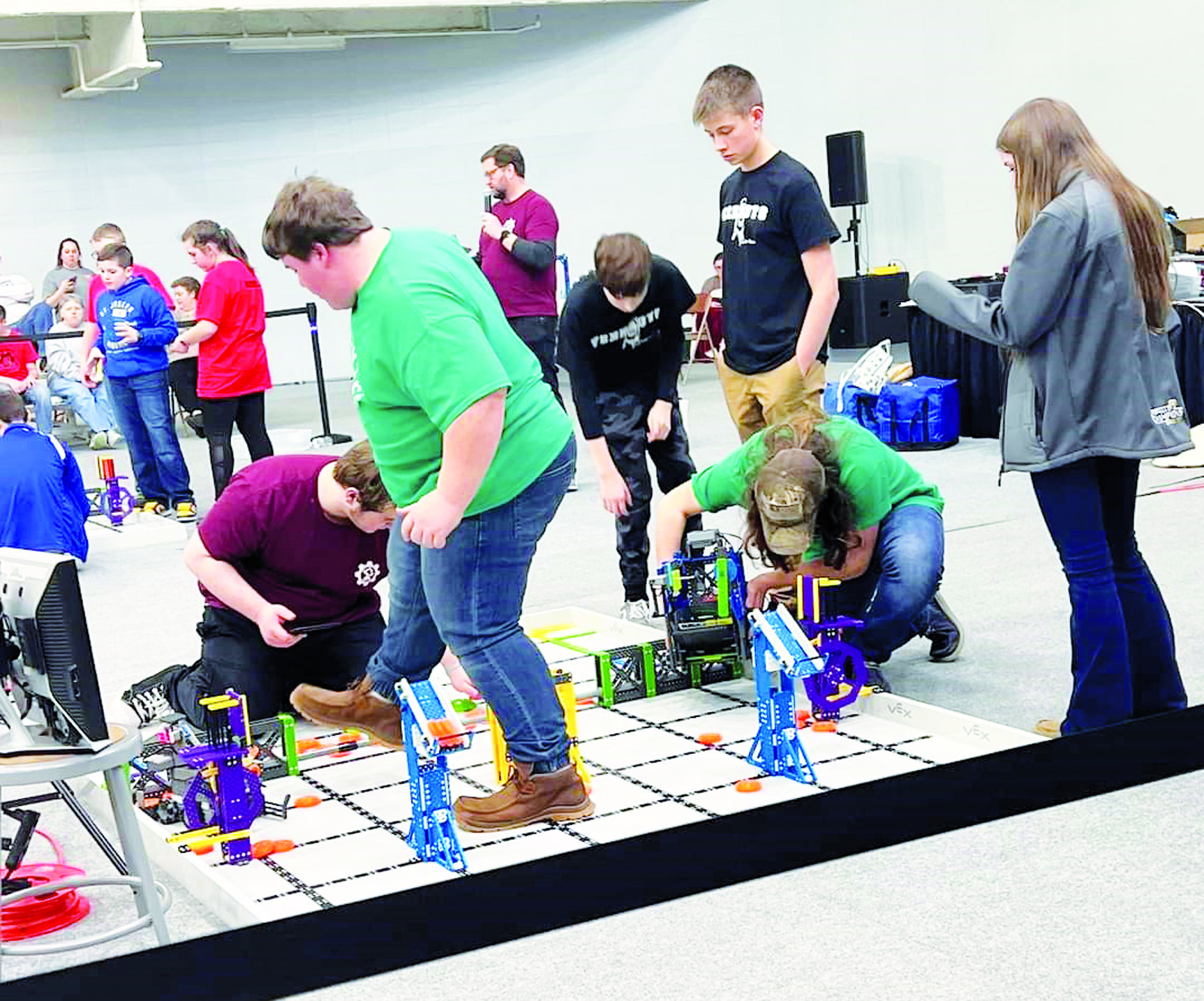 By Stephen Smoot
A team of Pendleton County Middle School students showed their technical savvy recently, placing sixth in a robotics competition held last month at Fairmont last month. The team, called "Chaos Crew," is composed of Alex and Zander Adams.
The story actually starts in 2017 when Carrie Ruddle applied for and won a $10,000 grant to start up a robotics team. These teams compete as part of the West Virginia Robotics Alliance, which is managed by the Educational Resource Center team at NASA's Katherine Johnson facility in Fairmont. Pendleton County's WVU Extension Service office sponsors the teams.
Ruddle explained that "in a rural area, we have to make the opportunities for our kids and that's what we did."
As elementary school students, the team participated in Lego League Robotics. In Lego League, "teams of students. ages 6-10, focus on the fundamentals of engineering as they explore real world problems, learn to design and code, and create unique solutions." Solutions had to be applied to real world problems in emergency services, transportation, hydrodynamics, and more. 
As Brooke Alt from the extension service describes, "we've moved along with the same group of kids and they've aged up." This enabled the group to continue to learn, develop skills, and become more competitive.
The team aged out of Lego League into a category called VEX. Robotics in this area requires skills in "scratch programming." Developed at the Massachusetts Institute of Technology, "Scratch is the world's largest coding community for children and a coding language with a simple visual interface that allows young people to create digital stories, games, and animations." 
The website adds that Scratch "promotes computational thinking and problem solving skills; creative teaching and learning; self-expression and collaboration." It also helps teams to tackle a broader spectrum of tasks. Beyond its use in the competition, this language helps children to learn the basics of creating apps.
Pendleton County's team first went to qualifiers in Martinsburg at James Rumsey Technical Institute. "They did really well," Alt shared. Those in the top 30 qualified for the state competition. Pendleton County placed 12th overall, which qualified the team for the finals. There, teams competed as part of an "alliance" with another school. Pendleton County teamed with Martinsburg and the combined team placed sixth overall.
Competing in an alliance forces students to learn skills. As Alt explained, "when they go to the alliance matchups, you have to talk to people," which builds interpersonal and professional communication skills.
Ruddle described how competition helps to build personal resiliency. She said that "it teaches them about perseverance because it's not easy. It teaches them how to handle adversity." Team members had to handle the unexpected as well. During competition in Fairmont, a fire alarm twice interrupted their work.
"They loved it," Alt said, "you could see it in their faces. When they did really well, they were so excited."
Pendleton County fielded a middle and an elementary school team this year. The elementary school team, called the "Duck Trucks," was composed of Easton Boner, Kenden Champ, Marion Williams, Ross Pownell, and Owen Champ. The Duck Trucks earned a fourth-place finish at James Rumsey.
Next year, some of the competitors will advance into the high school category. Alt explains "we will need more money as they age up." High schoolers compete in "battle bots" style events. They need more metal and different types of materials that cost more than middle and elementary teams. Alt described how "we're always looking to grow and expand, not just with team members, but also volunteers. We welcome anyone who can learn and help. It takes a lot of time and effort."
According to the West Virginia Robotics Alliance's website, 6,000 students "annually engage" with the organization. Also, "over 70 percent of surveyed team coaches reported that robotics participation improved student skills in leadership and communication."