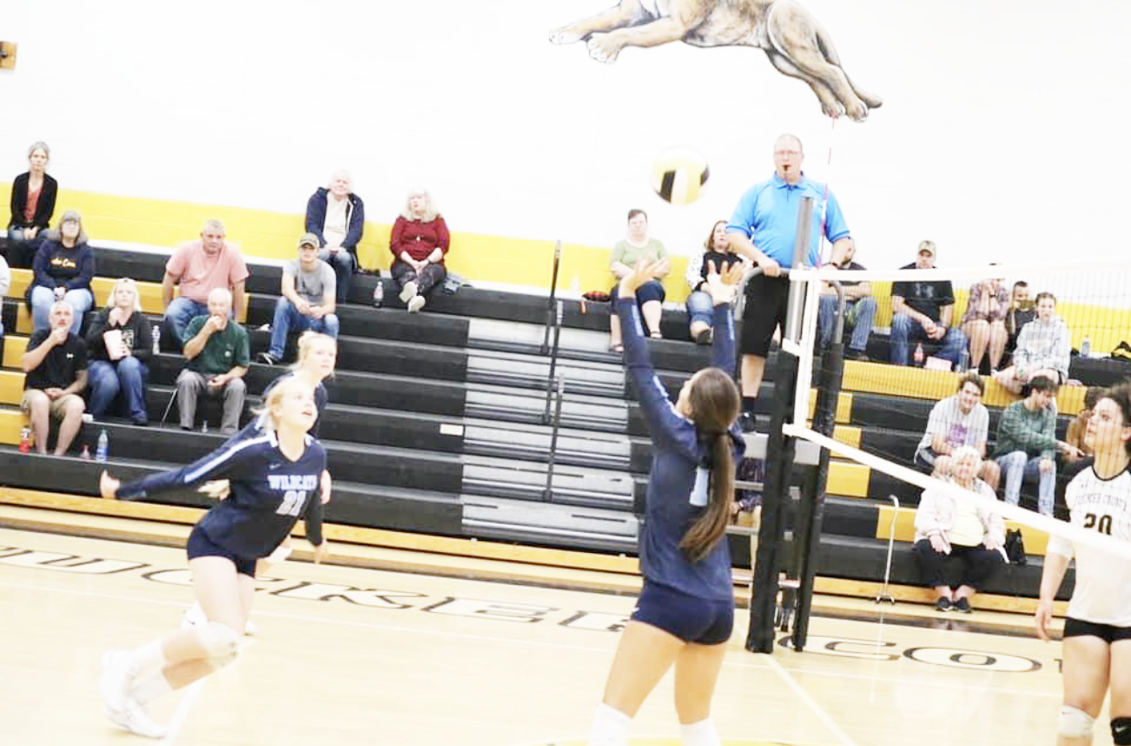 By Stephen Smoot
Coming into last week's contest against Tucker County, the Wildcats had defeated their fourth straight opponent. Tucker County, however, brought with them a 2-1 record with the lone defeat being a deceptively tight 3-0 loss to Preston. 
Tucker County was a tall order for the Wildcats. Two Mountain Lions, Raven Matthews and  Catie Kirk, towered over any Pendleton County player, both at nearly six feet tall. The Wildcats worked to counter height with athleticism and the formula worked for a dominant Pendleton County win.
In the first set, the Lady Cats struggled to get going and the Mountain Lions raced to a 7-2 lead. Over their win streak, however, Pendleton County relied on confidence and composure to work its way back.  Jenna Smith's accurate serving and excellent teamwork by the defense brought the Wildcats back to an 8-8 tie.
Early spikes by Gabrielle DePue and Baylee Beachler also showed that Pendleton County was not intimidated by the height advantage of Tucker County.
Tucker County pulled ahead again 13-10 until the Wildcats settled back into their game. A 10-3 run assisted by multiple spikes and aces by Arianna Young gave Pendleton County a 20-16 lead that they never relinquished. Smith's accurate serving helped to close out the first game for the Wildcats 25-20.
In the second game Tucker County again took the first score, but Beachler's serving helped the Wildcats jump ahead 3-1. Tucker County's attempt to surge back was broken by an ace by Avery Townsend and a spike by Katie Hedrick that lifted Pendleton County to a 6-4 lead.
From this point on, Pendleton County firmly established the recipe for victory.  Tucker County brought size, but not quickness to the game. As their taller players crashed the net, holes were exposed in the middle and on the far sideline that the Wildcats ruthlessly exploited. Pendleton County launched lofting returns and deadly spikes instead of challenging the taller players directly. 
Pendleton County, in essence, borrowed from baseball the old Wee Willie Keeler maxim, "hit 'em where they ain't."
Coach Madison Gargas, filling in for head coach Rod Cooper, explained that "We started using different skills as far as hitting." Once that was mastered, Pendleton County took advantage of key opportunities. Also important for the Wildcats was "keeping their speed up" and using it to counter the other side's height.
In the opening minutes of the second game, Tucker County kept it close until four straight Allie Cooper aces followed by a Young spike, giving the Wildcats a 13-7 lead.
Beachler later put on her own impressive display of serving, scoring multiple aces of her own to help close the game out, assisted by a Hedrick spike. Pendleton County closed the second set on an 11-0 run.
Although they conceded points at the beginning of the first two sets, the Wildcats pushed ahead early and never relinquished their lead in the third and final. As she had all night for all of her teammates, Elizabeth Alt put in yeoman's work in providing a perfect set for a powerful spike by Young. Her sets and Cooper's relentless patrolling of the middle left few holes for Tucker County to exploit, while also finding more gaps in the Tucker County defense as the game wore on. 
Pendleton County's smart use of lofting returns to the middle, as opposed to challenging Tucker County's strength directly, also forced the Mountain Lions to back off the net, playing less aggressive and more reactive. This opened up opportunities for Pendleton County to hit more spikes and dominate the net at times against a taller foe.
The Wildcats used an 8-3 run with a huge spike by Hedrick to nail down the set 25-13 and the game 3-0.
"The girls are having fun every game that we play, "Gargas described. She went on to comment that win streaks require the right attitude, saying "we take it one game at a time, approaching every game like it's the biggest game we'll play."
On September 13, Pendleton County scored a big win over AAA Elkins, three sets to one.
The Wildcats' next action comes in a home stand against Highland High School from Virginia. Results from home games against Tygarts Valley on the 20th were not available at press time.