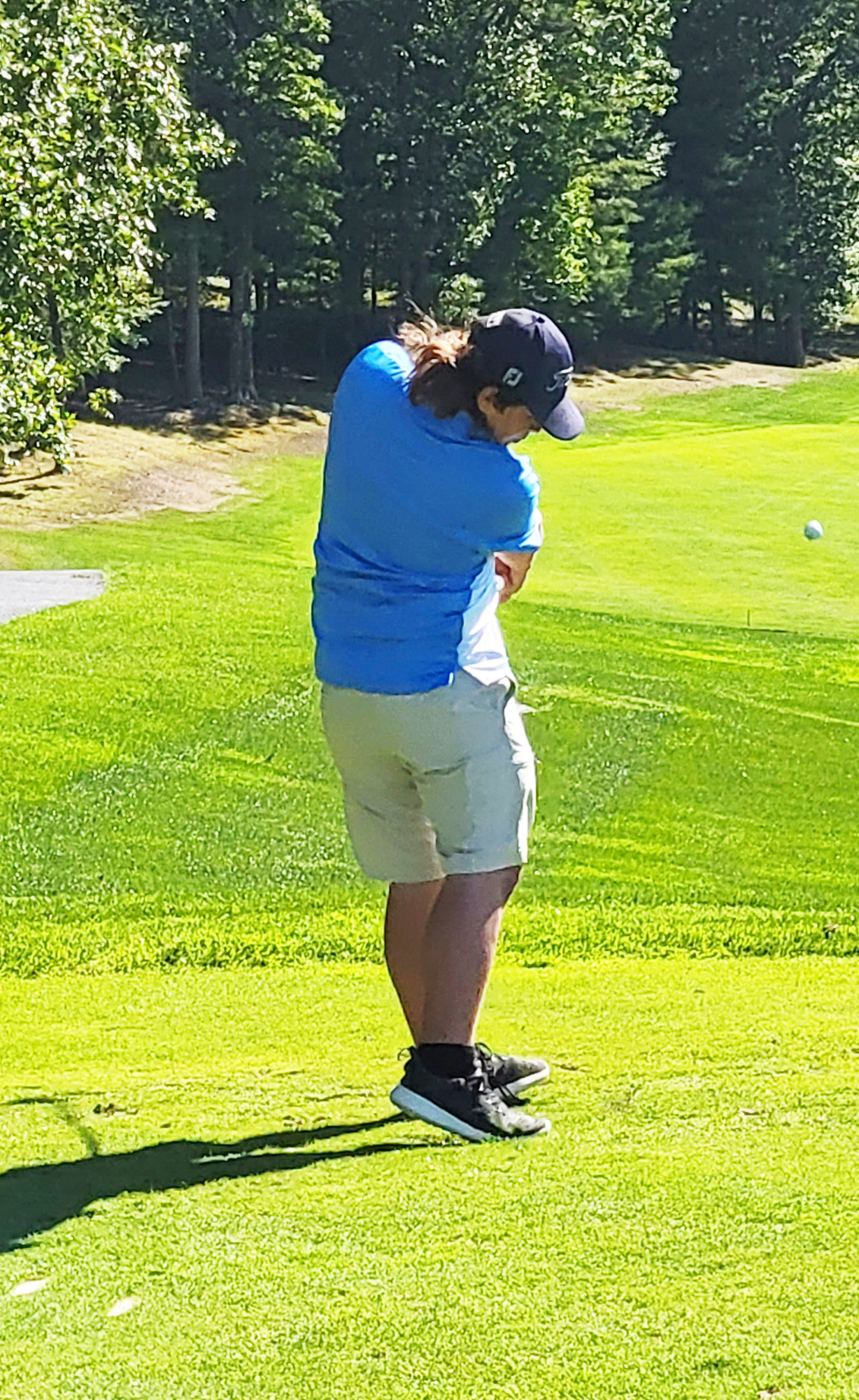 By Stephen Smoot
Last Tuesday brought a brilliant blue sky almost unbroken with fair weather clouds, perfect temperatures, and a stiff cooling breeze to Highlands Golf Club. These conditions created an ideal day for golf with Pendleton County tying Pocahontas County for first place and AAA Hampshire placing third.
Golf provides a strong contrast with other high school varsity sports, especially in secluded Troublesome Valley. No bands greet the players as they enter the field of play. No cheerleaders kick their heels and chant encouragement. No spectators, save devoted parents and the occasional herd of deer come to see. Even those remain quiet and respectful as each competitor tees up his or her shot.
The sounds of silence and nature prevail over all else, save the good humor and gentlemanly encouragement each player provided the other, regardless of school.
Make no mistake. Each player comes to compete. They feel the same thrill at a birdie or hole in one as a competitor on the gridiron scoring a touchdown. Their coaches, parents, and teammates express the same pride in each other's successes. They also feel the same pain when their play does not meet their own expectations.
Their competitive spirit does not aim itself at opposing players or schools in golf. First, one competes against oneself. Jared Hott, who played football at Hampshire, but now coaches golf for the school, says "This sport more than any other requires you to keep cool, to keep your composure" relying on "your skills and your brain." He added that often once you get down on yourself, it's hard to bounce back mentally.
Wildcat Coach Charlie Burgoyne emphasized the mental aspect as well, saying "It takes a long time to improve in golf. One day you have a good round, then another day it's like you have never played before."
The mental challenge requires a unique mindset with players who can control emotions, whether from the excitement of accomplishment or disappointment. Pocahontas County Coach David Moore explained, "kids that play golf are the best kind of kids."
Players also compete against the course. Each course, if designed well, presents its own unique set of challenges. Adapting is part of the game. Football players only have to adjust to turf or different levels of natural grass quality. Basketball and volleyball can count on each court meeting the same standards. 
Highlands presents a number of challenges to players from both home and away. As Pendleton County's Haiden Waggy described it, Highlands features "tight fairways" and "trees always in play." Waggy explained that it's hard for players coming in to know the course, which can give experienced Pendleton County players an advantage.
His teammate Cameron Beachler agrees, saying that the course is "in really good condition" but it "forces you to be consistent" with "a lot of trees and tough holes." Beachler added that Highlands has "the hardest greens around."  
Highlands also exposes another aspect of play. To compete well, players must have a different type of athleticism. They hike throughout the course, carrying their own bags. While they do not run, jump, or take hits, the hilly nature of a course like Highlands can drain a player's stamina which can affect their power and accuracy when hitting the ball. Other courses have more gentle slopes on flatter land and demand less of the players. 
Pendleton County finished first, tied with Pocahontas County. Both teams scored 205 while Hampshire trailed with a score of 239. Wildcat individual performances saw Beachler leading with a score of 43. Beachler explained that "it started off good," then he hit "pars and bogies the whole way through" and "parred the ninth hole to finish."
Waggy placed second with a 55, Brayden Beachler 50, Evan Teter 57, and Mason DiFalco 60.
Last week, the squad also competed at the Potomac Valley Conference tournament. Petersburg took tournament honors with a score of 370. Pendleton County finished with a 429 with the low medalist, J. W. Teets coming from East Hardy at a score of 82. Cameron Beachler won all PVC team selection.