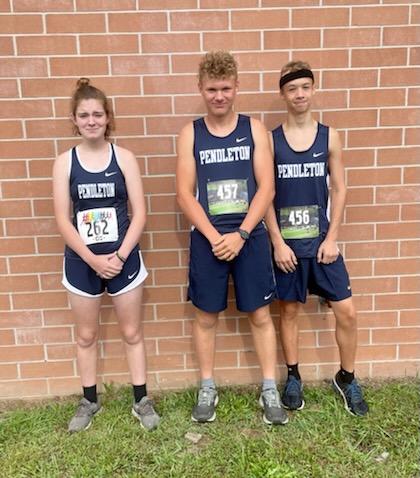 By Stephen Smoot
Last Saturday, Pendleton County cross country competed against some of the best in the region at the 29th annual Frankfort Invitational, held at Short Gap. Overcast skies and a muggy mid 70s morning saw the team make strides toward gaining experience and posting improved times.
Said Coach Mary Beth Hebb, "It's a great day to run!"
Frankfort dominated its own event, taking first place in both the men's and women's 5,000 meters. Participating schools traveled from three different states to compete. Pendleton County could not place in the team rankings because they do not have the minimum of five from the same gender to form a team.
Four boys and one girl form the entire squad.  Thunder Gill placed 32nd in the challenging field, with a 21:04.1 time. Titus Nulph did not trail Gill by much, earning a 22:25.2 time and placing 43rd.
In the women's category, Laney Sites-Woods ran for a time of 35:26.1 and 50th place.
Other runners on the team could not make the event.
For the harriers and Coach Hebb, the watchword remains improvement.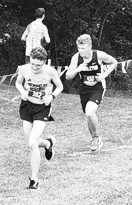 Hebb explained that Gill was competing in his first official 5,000-meter event of the season.  She said that he "previously had a hard road time of 21:01," but on a relatively flat and fast course. "We were shooting for around 21."
On Gill's results, Hebb said "This is where we want him to be on his first meet."
The course at Frankfort differs greatly from a flat paved road race.  Hebb explains that the course at Frankfort, which winds through forests and contains downhill runs and inclines "is not a superfast course, but not the hardest we run. They have a really nice course here. We really like coming here." Hebb described the course at Southern, coming soon on the schedule, as "more difficult" and Hampshire's as "one of the toughest."
Gill found Frankfort's "a very challenging course," but also cited the event as "great competition, great overall."
His running mate Nulph agreed, "There was some really good competition, big schools, solid kids, tough competition." He went on to praise his teammates, saying "I think we have a great team dynamic. It's a small team, but lots of friendliness. That helps when you come to these meets."
Hebb saved her highest praise for the team's lone female competitor, Sites-Woods, saying that "Laney dropped 10 minutes off of her time at Keyser." Sites-Woods credited her improvement at least in part on better conditions, saying "Last time it was hot outside. It wasn't like that this time."
Sites-Woods also spoke on her limited experience in the sport so far, saying "I like it. Everyone's really nice" and "the courses are always pretty."
Other schools competing at the Frankfort Invitational included Keyser, Mercersburg Academy, Allegany, Fort Hill, Hedgesville, Berkeley Springs, Paw Paw, Bishop Walsh, Southern, Meyersdale Area, and Mountain Ridge.
Results from the meet Sept. 13 at Southern were not available at press time.