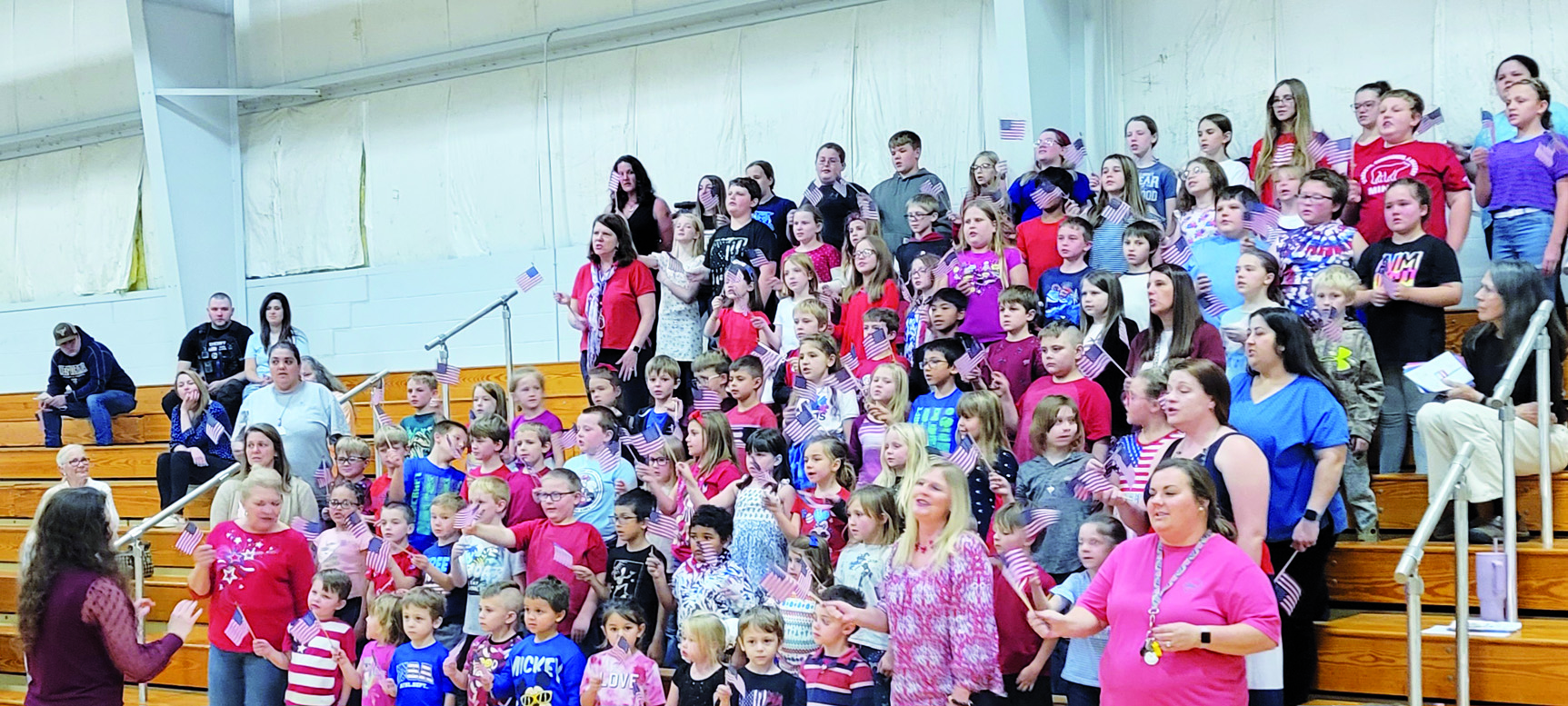 By Stephen Smoot
Veterans and their families packed the Harold Michael Community Building in Circleville last Thursday. Students, faculty, and administrators took time out of the school day to show appreciation for those who defended freedom.
The school staff decorated the gym in patriotic style, with ribbons, bunting, shiny red, white, and blue stars, and more, honoring both military veterans and also America.
Students started filing in around 1:20 p.m. for the 1:30 p.m. event. Most wore patriotic colors on their clothing. One young lady wore a red T-shirt that read "America is awesome" while a preschool aged boy sported a smart red, white, and blue sequined derby style hat that perfectly matched the sentiment of the day.
Lisa Roberson, principal of North Fork Elementary School, opened the event, saying, "Thank you all so much for coming. We are excited to have so many with us."
She then introduced the special veteran guests. These were Bob Hoops – Navy, Jack Bowers – Navy, Nancy Kimble – Navy, Roger Walters – Army, Anthony Lambert – Army, Dick Vance – Army, Charlie Teter – Army, John Lambert – Army, Tom Faust – Air Force, Pete Keplinger – Army, Don Johnson, Jr. – Army, Roger Crocker – Navy, Shawn Turner – Army, John "Wade" Sites – Army, Jimmy "Chief" Warner – Army, Gene McConnell – Air Force, Morris Ruddle – Army and Dr. King Seegar – Army.
Sixth graders then led the attendees in the Pledge of Allegiance, followed by students singing patriotic songs under the direction of Katelyn Gatian, the music teacher. Fourth- and fifth-grade students sang "America the Beautiful," followed by first graders performing "Thank You, Veterans."
That song included lyrics such as "if you love your country, thank a vet. If you cherish freedom, thank a vet."
When each child sang "thank a vet," their right hand went to their foreheads in salute.
Next, sixth grader Alayna Huffman read her essay called "How Can We Honor Our Veterans?" Huffman said that "you have to be pretty brave to be a veteran" and to "thank them, pray for them . . . do something to make their day."
She concluded with "we owe them a lot."
After Huffman finished, the second and third graders joyfully and boisterously belted out "Grand Old Flag." Their voices carried over the sound of a sudden rainstorm pelting the roof of the gym.
NFES students last year helped to fund playground equipment by running a fundraiser called "Change for a Cause." This year, they decided to use it to support the local veterans' charity Mountain Cajun Getaway. This organization provides paid excursions for veterans and their families to disconnect from the outside world and reconnect with themselves and each other. 
Each grade competed to raise the most money. The fifth grade won, tallying $1,031.20, as shown on the traditional giant check. Their prize was to share pie and coffee with the invited veterans and listen to their stories and wisdom."
Rhiannon Phares accepted the donation on behalf of Chris and Melissa Grimes, who run Mountain Cajun Getaways. "This gift is truly amazing and appreciated," she said. She added that the Grimeses will be working with the fourth grade in conducting a maple study.
The last part of the musical ensemble saw every child waving a flag, singing Lee Greenwood's "God Bless the USA." Their voices rose even more when they sang "I'm proud to be an American"
The day ended with each class giving gifts to the veterans. Preschoolers fashioned "Army men" out of construction paper, complete with camouflage fatigues, helmet, and small flags. Other grades made Veterans' Day cards and thank you signs.
As the children filed out to "America the Beautiful," veterans and their families stayed behind to talk and take in the patriotic moment provided by the leaders of tomorrow and their teachers.