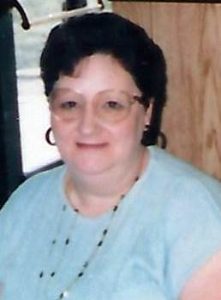 Nancy Louise (Auville) Raines, 79, of Riverton went to be with the Lord on March 18, 2022, at Grant Rehabilitation and Care Center in Petersburg.
She was born on Feb. 23, 1943, at Brushy Run, near Onego, the daughter of the late Paul Edman and Nellie Frances (McGowan) Auville, being the oldest of their nine children. 
Mrs. Raines was a 1961 graduate of Circleville High School and was employed at Pendleton Nursing Home, where she worked as a nursing assistant, home health aid, volunteer coordinator and activities director. She was also a member of the Dixie Extension Homemakers Club for 32 years and a member of the Riverton United Methodist Church. She was active with the Pendleton County Fair and Treasure Mountain Festival. 
On Dec. 12, 1960, she married Richard Lee Raines, who preceded her in death on July 5, 2010. 
She leaves behind to cherish her memories a son, Terry Lee Raines of Riverton; a daughter, Cathy (Raines) Jennings of Myrtle Beach, South Carolina; three grandsons, Christopher Jennings (Sarah) of Chesapeake, Virginia, Eric Jennings (Bethany) of Moorefield and Ryan Raines (Sarah) of Franklin; four great-granddaughters, Kylie, Kaelynn, Alaine, and Emily Jennings; two great-grandsons, Lucas Raines and Christian Jennings; two sisters, Arlene Goldizen (Delmas) of Jordan Run and Connie Propst of Timberville, Virginia; five brothers, Paul Auville, Jr. (Linda) of Dry Fork, Eugene Auville (Norma) and Raymond Auville, all of Riverton, Rowland Auville (Diane) of Seneca Rocks and Orville Auville of Cabins; and several nieces and nephews.
She was also preceded in death by a brother, Kenneth Auville.
In honoring her wishes, her body has been cremated.
Her family will receive friends from 1 – 2 p.m. April 9 at the Basagic Funeral Home in Franklin. A celebration of life will follow with Pastor Mike Lambert officiating. Inurnment will be at North Fork Memorial Cemetery in Riverton.
Memorials may be made to Grant County Rehabilitation and Care Center, 127 Early Ave., Petersburg, WV 26847 or Riverton United Methodist Church, Riverton, WV 26814.
 Memories and words of comfort may be left at www.basagic.com or on Facebook at Basagic Funeral Home.