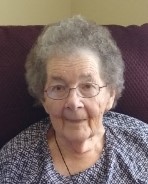 Ivy Arlene Dove Mitchell, 91, of Harrisonburg, Virginia, passed away peacefully on March 15, 2022, at Bellaire at Stone Port in Harrisonburg, Virginia, surrounded by her loving children.
She was born Dec. 6, 1930, in Sweedlin Valley to the late Rev. John Luther Dove, Sr. and Ada Siever Dove. 
In 1949, Mrs. Mitchell graduated from Franklin High School. After graduation, she taught as an interim school teacher at Mountain Top Schoolhouse, a one room schoolhouse in Pendleton County.
She cherished many things, especially working on the farm, attending many family reunions gardening, canning, sewing and raising her six children. She loved spending time with her family and friends. She was a faithful and active member of Mt. Pleasant Church of the Brethren, where she faithfully served her Lord and will be sadly missed by many.
In 1951, she married Earl Leo Mitchell, who preceded her in death on March 11, 2005.
Surviving are four sons, Earl L. Mitchell, Jr. and wife, Phyllis of Mt. Crawford, Virginia, Larry A. Mitchell and wife, Brenda of Keezletown, Virginia, Keith O. Mitchell and wife, Frances of Broadway, Virginia, and Dennis L. Mitchell and girlfriend, Chris Besendorfer of Grottoes, Virginia; two daughters, Wanda M. Muterspaugh and husband, Troy of Bridgewater, Virginia, and Linda F. Cline and husband, Gary of McGaheysville, Virginia; a sister, Ruth Boyers and husband, Auburn; grandchildren, Jessica, Daniel, Charity, Bradley Mitchell and Melissa Sullivan, Nathan Mitchell and wife, Amanda, Gregory Mitchell and wife, Wendy, Rachel Morris and husband, Luke,  Amanda Breeden and husband, Josh, Crystal Waters and husband, Matthew, Misty Drumheller and husband, Dave, Missy Muterspaugh and Andrea and Alex Cline; great-grandchildren, Tristian, McKinley, Lani, Kaylie and Liam Mitchell, Dylan Doffelmyer, Patrick, Joshua, Jagger Sullivan, Killian, Vaida and Remington Snell and Liam and KayLeigh Drumheller. 
She was also preceded in death by four brothers, Alvin, John Luther, Jr., Wilbur and Roy Dove; and two sisters, Velma Miller, and Elda Kibler.
A funeral service was conducted Saturday at Kyger Funeral Home in Harrisonburg, Virginia, with Pastor Henry Elsea, Jr. officiating. The burial was private. 
Condolences may be shared at kygers.com.