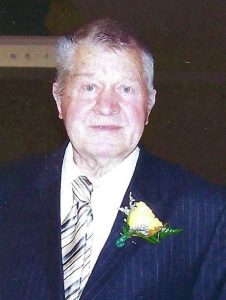 Merl E. "Cub" Bennett, 90, of Riverton passed away March 31, 2022, at Grant Memorial Hospital in Petersburg, surrounded by his family.
He was born on Jan. 25, 1932, in Circleville, the son of the late Jimmie J. and Mabel (Warner) Bennett. 
Mr. Bennett was a 1953 graduate of Circleville High School. He was drafted to serve in the U.S. Army, during the Korean War, where he served as the supply clerk (radar) in the 45th MASH Unit. He was drafted to war prior to his graduating and was presented his diploma upon his return home from service. Following his return from Korea, he drove a street car in Washington, DC.
In 1960, he began his career as an iron worker and was employed by J. A. Jones for 10 years. During this time he attended welding school in Wilmington, North Carolina, and became a master welder. After his father's passing, he returned to Judy Gap and worked the family farm, where he continued raising beef cattle and owned and operated Bennett Lime. In 1973, he built a turkey house and grew for Rocco, which later became Cargill, until 2018.
He was instrumental in building the North Fork Rescue Squad Bay and moving the North Fork Brethren Church to its present site, saving it from the flood. He was a charter member of the Pendleton County Rescue and instructed EMS volunteers to establish the North Fork Rescue Squad. He was a member of the Pendleton County Masonic Lodge #144 and a 32nd degree Scottish Rite Mason. He was a member of the Circleville United Methodist Church and attended Friends Run Church of the Brethren.
After his retirement, he enjoyed spending time with his family and friends and enjoyed riding the side by side ("his buggy"). He had a love for motorsports, including truck pulls and street racing, in his younger years and was noted for his keen sense of humor. He was a faithful attendee of multiple sports, including Circleville Indians, Pendleton County Wildcats and the West Virginia University Mountaineers. 
On June 20 1959, he married Barbara (Mullenax) Bennett, who survives.
In addition to his wife, he leaves behind to cherish his memory two sons, Randy C. Bennett and Jimmie Bennett (Vickie) of Riverton; two grandchildren, J. Isaac Bennett (Kaylee) of Franklin and Allison M. Bennett (Jacob) of Riverton; a great-granddaughter, Reece Mae Bennett (his first great-granddaughter, which he adored); a sister, Ruth Simmons of Franklin; and numerous nieces and nephews.
He was also preceded in death by a brother, Glenn Bennett; two nephews, Bill and David Bennett; and a brother-in-law, Vernon C. Simmons. 
Funeral services were held Tuesday in the Basagic Funeral Home chapel with Pastor Fletcher Hutchison officiating. Interment was in North Fork Memorial Cemetery with military honors conducted by the U.S. Army, Camp Dawson and Masonic rites conducted by Pendleton Masonic Lodge #144 AF & AM.
Memorials may be made to any Pendleton County Rescue Squad.
Memories and words of comfort may be left at www.basagic.com or on Facebook at Basagic Funeral Home.