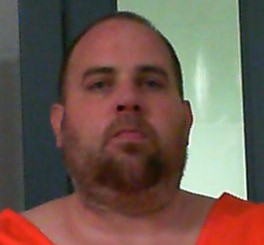 By Rebecca Arcure
Jason Thomas Sawyers, 43, of Fort Seybert was sentenced to four to 20 years on March 28. Sawyers pled guilty to two counts of arson in the third degree, one count of conspiracy to commit arson, one count of burglary, one count of grand larceny, and one count of disruption of telecommunication lines. Judge Charles Parsons sentenced him with recommendations from Pendleton County Prosecuting Attorney April Mallow. Parsons is filling in for Judge Charles Carl, according to Pendleton County Sheriff Chad Bowers.
On or about Jan. 28, 2021, Sawyers unlawfully and feloniously broke into a residence and committed burglary
and grand larceny, according to a criminal complaint. On or about Jan. 30, 2021, Sawyers unlawfully and
feloniously set fire to the same residence, located at 6423 Sweedlin Valley Road in Brandywine, according to the West Virginia State Fire Marshal. The home was a total loss, and the power, internet, and telecommunication lines were destroyed in the fire, causing a loss of service in the area for a time. There were no reported injuries due to the fire.
Sawyers is being held in the Potomac Highlands Regional Jail, where he will spend his sentence.
Additionally, Curtis Kimble, 39, of Riverton was arraigned on March 28 for four felony charges of delivery of a
controlled substance in 2021.