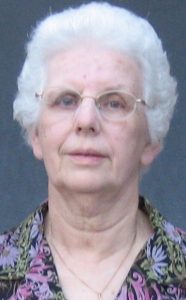 Mary "Sue" Mallow, 90, of Upper Tract passed away April 29, 2022, at Grant Rehab in Petersburg.
She was born Dec. 4, 1931, at Fort Seybert, the daughter of the late Walter Phillip Heavner and Anna Margaret Dyer Heavner.
Mrs. Mallow was a 1949 graduate of Franklin High School. 
She married Morris Mallow on Aug. 18, 1949, beginning her journey of the next 72 years where she was a true farmer's wife, not only raising her children, but also being actively involved with their farming and trucking operations.  She was a faithful member of Mt. Hope Lutheran Church and more recently, Upper Tract United Methodist Church.  
She will always be remembered for her farm table smorgasbord style lunches where any and all family, farmhands, truck drivers, business associates, other employees, friends, or just whoever showed up at that time were welcomed and well fed.
Surviving in addition to her husband are a daughter, Sharon Morford of Upper Tract; three sons, Donald Mallow (Linda) and Fred Mallow (Amy), all of Upper Tract, and William Mallow (Darlene) of Greenwood, South Carolina; a sister, Betty Puffenbarger of Franklin; four grandsons, Michael Mallow (Traci) of Benson, Minnesota, Phillip Mallow (Cindie) of Upper Tract, Zebulun Mallow of Morgantown and Brian Mallow (Amanda) of Albany, Georgia; four granddaughters, Cassie Boner (Adam) of Upper Tract, Natalie Propst of Arlington, Virginia, Emily Propst of Bozeman, Montana, and Stephanie Walker (Steve) of Harrisonburg, Virginia; 10 great-grandchildren, Taelyn, Teyana, Hazel, Easton, Everett, Ezra, Eleanor, Grace, Carter and Adam; four step-grandchildren, Isabel, Joe, Phillip and Jonathan; two sisters-in-law, Helen R. Heavner of Upper Tract and Betty Heavner of Louisville, Colorado; and a number of nieces and nephews.
She was also preceded in death by three brothers, Bill Heavner, John D. Heavner, and George Heavner; and a step-grandson, Bobby Morford.
A funeral service was held Tuesday in the chapel of the Kimble Funeral Home in Franklin with Pastor David Webb officiating. Interment was at Cherry Hill Cemetery in Upper Tract.
Memorials may be made to Upper Tract United Methodist Church, PO Box 13, Upper Tract, WV  26866, South Branch Ruritan Club, 2275 Schmucker Road, Upper Tract, WV  26866 or Pendleton County Rescue Squad, P. O. Box 727, Franklin, WV  26807.
Online condolences may be shared at www.kimblefuneralhome.com.