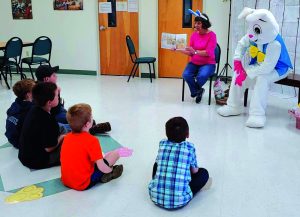 On April 7, Pendleton Senior & Family Services worked with the Easter Bunny to visit Brandywine and Franklin Elementary schools.  The Easter Bunny helped to hide eggs for the younger classes and made sure to hop in and say hello to the other classes as well.
A week later on April 14, the Easter Bunny was spotted again, this time at the senior center's North Fork Nutrition Site.  He hid eggs for the local children to hunt and joined in for story time.  There were crafts and pictures with Mr. Bunny.  Approximately 30 families participated in the activity on a beautiful day.
To stay posted on services and activities offered through Pendleton Senior & Family Services, a person may follow on Facebook or call (304)358-2421.  The Franklin Senior Center is open Monday-Friday, 8 a.m. to 4 p.m.  The North Fork Nutrition Site is open Monday, Wednesday, and Friday, 10 a.m. to 2 p.m.