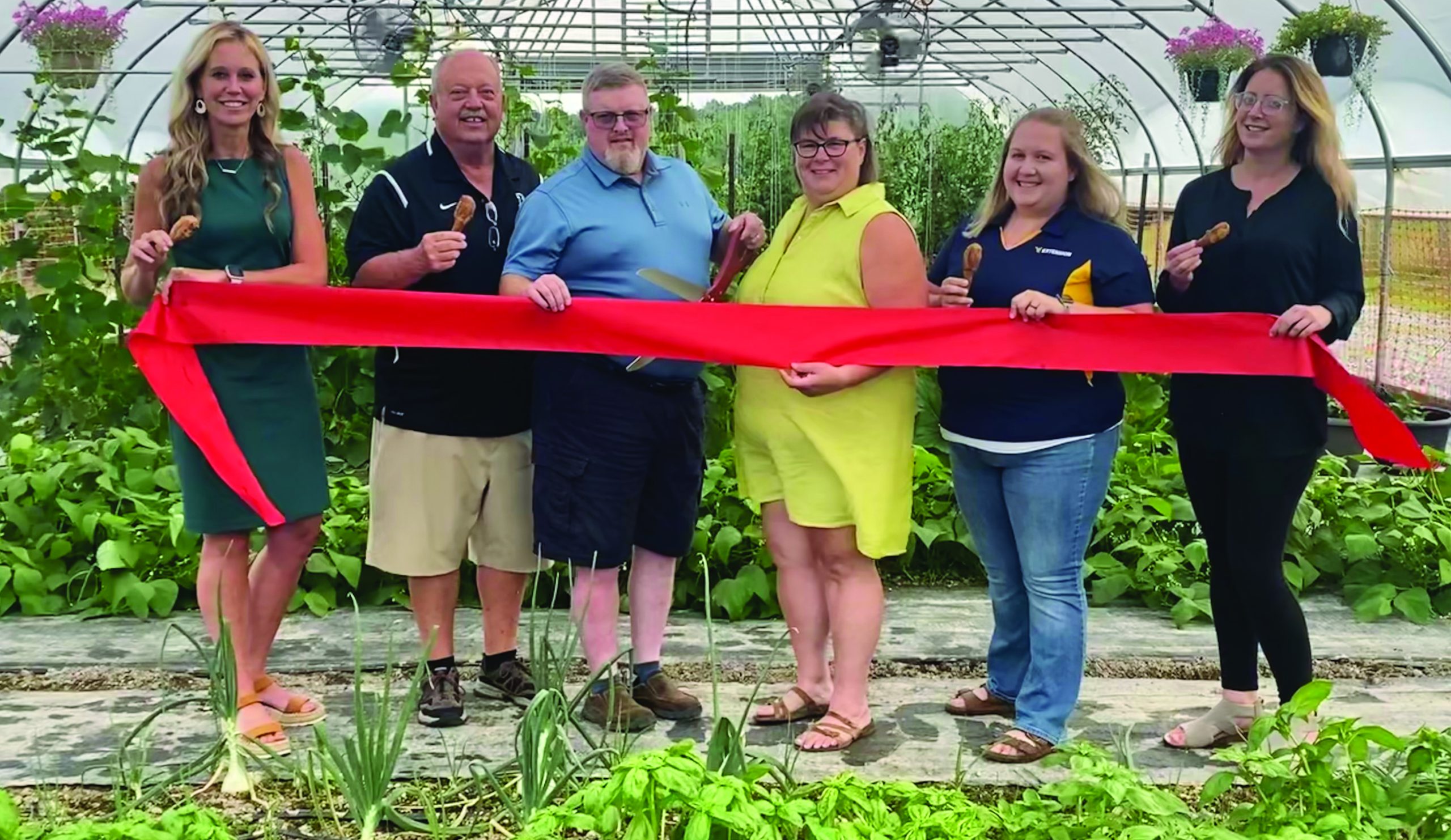 By Ammie Ruddle 
Owners of the Deans Gap Farm LLC, Scott and Becky Rightsell, celebrated their new high tunnel on July 6 with a ribbon cutting. Established in 2015, the farm is located in Fort Seybert.
The Rightsells invited guests of the ribbon cutting to a dinner of pulled pork, beef brisket, a chicken leg and a tomato, cucumber, onion, and basil salad. 
The farm participates in the Pendleton County Farmers Market where Becky Rightsell is the on-site market manager. 
In addition to fresh vegetables, they offer smoked meats and other dishes through a catering service. 
Both Scott and Becky Rightsell were raised on small family farms where they learned about animal husbandry, gardening and canning. 
The land, where Deans Gap Farm is located, was passed to them by Becky's parents, Gary and Jenny Pitsenbarger. When the Rightsells began their farming business, it operated solely as a contracted, antibiotic-free, commercial turkey farm for the Virginia Poultry Growers Cooperative. 
Scott Rightsell, who has experience in the turkey industry, worked as a flock technician for 17 years before choosing to work on the family turkey farm in 2012. He learned the art of smoking meat when he was assisting at a local restaurant with its BBQ weekends. 
In 2017, the Rightsells started to diversify their offering by purchasing a used Lang Barrel Smoker so that Scott could begin to smoke meats for local, non-profit organization fundraisers. 
A year later, Becky Rightsell discovered the U.S. Department of Agriculture's National Resources Conservation Service offered a cost-sharing program called the High Tunnel System Initiative. The program allowed the Rightsells to branch out into growing vegetables year-round using a high tunnel. 
In addition to their experience growing vegetables, they were offered the opportunity to learn how to expand their growing season, how to improve their soil and plant quality, and how to reduce and eliminate pesticide use. In the summer of 2019, the Rightsells planted their first high tunnel crops. Their vegetables thrived and they began selling to family and friends, as well as at the Pendleton County Farmers Market. 
The farm currently offers a variety of fresh vegetables and catered meats to the farmers market patrons, as well as events of all sizes.