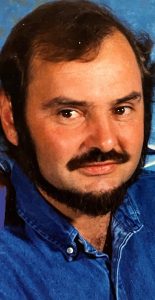 Lanny Allen Marshall, 66, of Franklin passed away at his home on Feb. 27, 2022.
He was born on July 16, 1955, at Harrisonburg, Virginia, and was the son of the late Samuel Ronald Marshall and Margie Johnson Clower.
A 1973 graduate of Franklin High School, Mr. Marshall had worked at Tyson and Cargill, and as a heavy equipment operator at the Bath County, Virginia, pumped storage project, Hott & Miller and Simmons Backhoe Service.  He also worked as a logger with both Leonard Landis and David Bowers.
He was a jack of all trades and felt dedicated to helping others.  When his son was young, he very much enjoyed attending his ball games and served as a Webelos Leader for Boy Scouts of America Pack #0162 in Franklin.  He loved fishing and hunting and was a member of Franklin Moose Lodge #769.
Surviving are a son, Jordan Marshall of Franklin; a dear friend who was like a son, Jonathan Simmons of Franklin; three half sisters, Debbie Coleman (Robert) of Harrisonburg, Virginia, Donna Warner (Lynn) of Franklin and Dinah Mitchell (Benny) of Sugar Grove; a half brother, Eddie (Mary Ann) Simpson of Franklin; nieces and nephews; and a host of friends.
A graveside service was held Tuesday at Cedar Hill Cemetery at Franklin with Pastor Tim Johnson officiating.
Memorials may be made toward his final expenses, c/o Kimble Funeral Home, PO Box 159, Franklin, WV  26807.
Online condolences and memories may be shared at www.kimblefuneralhome.com.
Funeral arrangements were entrusted to Kimble Funeral Home in Franklin.