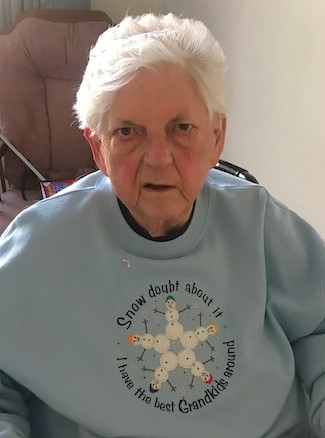 Juanita Hartman Self, 88 of Mechanicsville, Virginia, and formerly of Franklin departed this life to enter her heavenly home on March 22, 2023.
Mrs. Self was a devoted life-long member of the Church of Jesus Christ of Latter-day Saints. She was a hard worker, skilled seamstress, excellent cook, and a loving mother and grandmother. She enjoyed working on her search-a-word puzzles, but her greatest joy was the time she spent with her family.
Her beloved husband of 26 years, Harmen E. Self, preceded her in death.
Surviving are six children, Sharon Shaver (Kenny), Lanora Troxell (Bob), Eddie Self, Jerry Self (Lisa), Gary Self (Denise), and Ricky Self (Maria); 10 grandchildren; 13 great-grandchildren; and many nieces and nephews.
She was also preceded in death by her parents, John Esby and Mary Lena Simmons Hartman; and 15 siblings.
A funeral service was held Monday at the Church of Jesus Christ of Latter-day Saints in Franklin. Interment followed in Kimble Cemetery #37. 
Memorial donations in her memory can be made to the charity of one's choice. 
Funeral arrangements were under the direction of the Monaghan Funeral Home in Mechanicsville, Virginia.