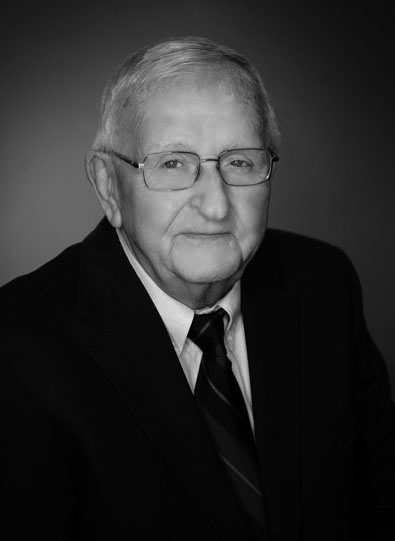 John George Van Meter, 84, passed away unexpectedly Aug. 29, 2022, at his home in Petersburg.
Born on Feb. 8, 1938, in Cumberland, Maryland, he was the son of the late Mabel Snyder and Kenneth Chambers Van Meter, Jr.
 Mr. VanMeter recounted many fond memories spent with his cousins on the family dairy farm, Locust Shade, as well as in his childhood neighborhood as a proud member of the Pierpont Street Polecats. He went to work at 13 years old as a guide at Smoke Hole Caverns.
He spent his early years in Petersburg where he attended elementary school. His love for history earned him the state's history contest honor of "Knights of the Golden Horseshoe." He graduated from Petersburg High School in 1956 and went on to West Virginia University, graduating from West Virginia University College of Law in 1961. During his junior year in college to avoid a $5 fine, he and his Phi Sig Brothers attended the Alpha Delta Pi Tea where he met his beloved wife, Mary. They were married Aug. 4, 1959, in Rowlesburg. They made their home in Petersburg for the past 63 years.
He had a magnetic quality about him. People gravitated toward him to feel heard, supported, and important. He practiced law with his father, beginning in 1961, until his retirement.
He served on the Grant County Bank board since 1977 and The Highland Bankshares, Inc. board since 1985, serving as chairman/CEO. In addition, he served on the Petersburg City Council for eight years.  He was an active member of the Petersburg Presbyterian Church, fulfilling duties as elder and trustee. He took pride in his work on numerous nonprofit organizations. He served as mental health commissioner in Grant County for many years. "Coach "Van Meter helped organize the local little league football program.
Anyone who knew him knew his family was his first love. He had a unique and special relationship with each of his loved ones.
He appreciated the little things in life. He loved Sandbridge Beach with his grandchildren, a dip in the ocean, fishing trips with the boys, gardening, an ice-cold beer, evenings on the back porch, the Wall Street Journal and history books that would put most to sleep.  He had a love for all things historical. He taught Civil War History for Shepherd College.  In 1988, he published "Short History-Small Church: Petersburg Presbyterian Church 1837-1987."  He edited The Civil War Letters of Charles Delay which he titled "To Water Street With Love." He had a special talent for storytelling, his laugh infectious and his love for his family immeasurable.
He and his family were grateful for the loving care and friendship of the Family Traditions lunch crew, Jan Hinebaugh, Terry Wimer, Dr. Bensenhaver and staff, Becky Harman and this wonderful small town family.
His wife of 63 years, Mary, survives.
Also surviving are two sons, John and wife, Mary Jane Van Meter of Spraggs, Pennsylvania, and Scott and wife, Robin Van Meter of Beckley; a daughter, Jennifer and husband, Mark Hatala of Binghamton, New York; Boompa's pride and joy were his grandchildren, Beth and husband, Jim Swords, Lori Fox and Carly White, all of Waynesburg, Pennsylvania, Jacob Van Meter of Beckley, Madison and husband, Shane Thompson, Charleston, Lauren, Molly, Grace, Samuel and Rose Hatala, all of Binghamton, New York; great-grandchildren, Megan Swords and Nathan and Sydney Fox, all of Waynesburg, Pennsylvania; and numerous cousins. 
A private burial will be held for the family at the Maple Hill Cemetery.
A memorial service at a later date will be announced.
Memory Eternal Meter… Dad…Boompa!!!
"He comes to us as One unknown, without a name, as of old, by the lakeside, He came to those men who knew Him not. He speaks to us the same words: 'Follow thou me!' and sets us to the tasks which He has to fulfill for our time. He commands. And to those who obey Him, whether they be wise or simple, He will reveal himself in the toils, the conflicts, the sufferings which they shall pass through in His fellowship, and, as an ineffable mystery, they shall learn in their own experience Who He is."  Albert Schweitzer, The Quest of the Historical Jesus
The family requests memorial donations be made to the Petersburg High School Scholarship Fund, 207 Viking Drive, Petersburg, WV 26847 or to the Petersburg Presbyterian Church, 20 N Main Street, Petersburg, WV 26847.
Arrangements were by Schaeffer Funeral Home in Petersburg, www.schaefferfuneralhome.com.