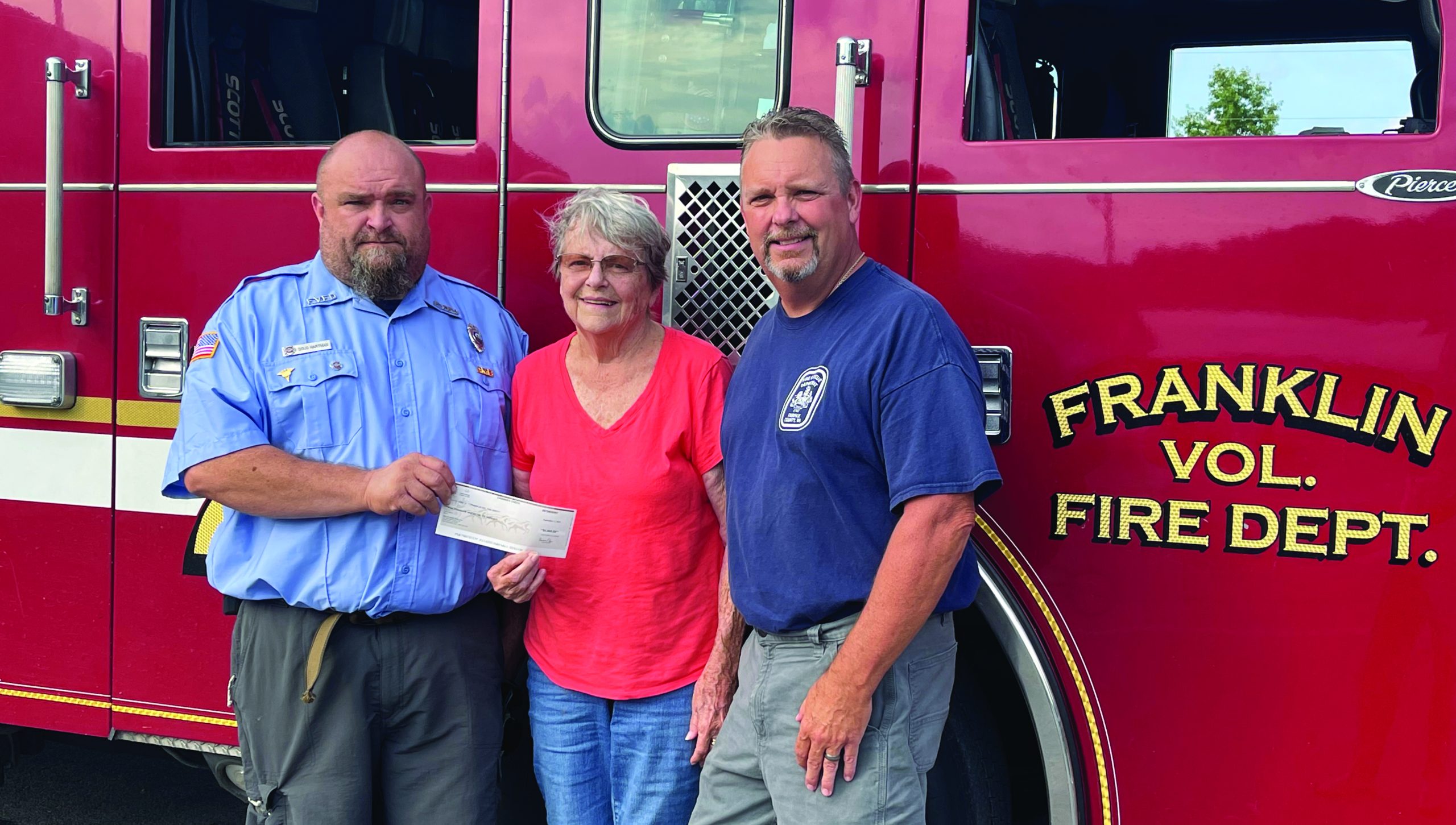 By Ammie Ruddle
Born and raised in Pendleton County, Karen Harman, 81, traveled from Stafford County, Virginia, to her childhood home in Ruddle, to give back to some people she said, "deserves it."
 Karen Harman and her son, Charles A. Harman, came to Franklin on Sept. 3 to present a $5,000 check to the Franklin firefighters. 
Charles A. Harman discussed why his mother chose to donate to firefighters. "We are four generations of firefighters in my family, starting with my grandfather, Glenn Harman."
Glenn Harman worked for the forestry service. "During the spring and fall fire seasons, he would stay in a tower on top of Shenandoah Mountain, called High Knob, here in West Virginia. He would spend weeks to a month on that tower to report any forest fire in the area," Charles A. Harman said. 
Glenn Harman would also work with other firefighters to fight those fires. 
Charles E. Harman, who was born in Propstburg, became a Washington, DC, firefighter after serving in the Army in 1958, according to Charles A. Harman. "My dad followed my uncles to D.C. fire department. They put him in the field first before sending him to rookie school, because they needed people." 
Charles A. Harman was a Fairfax County, Virginia, firefighter. He worked for the Franconia Volunteer Fire Department for 30 years before he retired in 2016. 
"Now my son, Hunter, is currently going to fire and rescue department academy in Stafford County, Virginia, and will follow suit." Charles added, "My youngest son just told me he wanted to be a firefighter as well."
"We're just a firefighting family," said Karen Harman.
The Harman family has had 12 family members serve as firefighters within four generations.  
Karen Harman said there was never a thought for anywhere else to donate the money. 
"I had money and I just wanted to give it away," she said, "I wanted to give them some money to buy some stuff." 
 She then joked that she "will give more but I'm not dead yet."
The pair presented the check to the chief of the Franklin Volunteer Fire Department, Doug Hartman. Upon receiving the donation, he said, "This will definitely buy some stuff!"
Hartman told them they would like to purchase some Res-Q-Jacks or hoses, "We need to see what we need the most first," he added.
Res-Q-Jacks are used to provide vehicle stabilization struts, lifting struts and trench shoring products for first responders, firefighters and emergency service crew, when responding to a vehicle accident. 
Hartman thanked Karen Harman and Charles Harman and said he would be taking the check straight to the treasurer's house. 
Karen Harman said she wanted the Franklin Volunteer Fire Department to have the donation to help because she plans to get back to the county one day, "I want to move back to my grandmother home if I can."