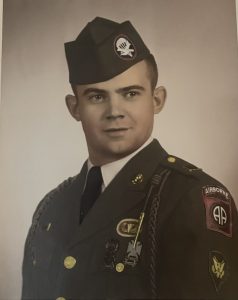 Harry Lee Temple, 82, of Brandywine passed away May 17, 2022, at his cabin on Dickenson Mountain.
He was born Nov. 9, 1939, at the Temple place in Oak Flat and was the son of the late Alva D. Temple and Mary Temple.
Mr. Temple was a 1958 graduate of South Hagerstown High after attending primary school in Brandywine and Hancock, Maryland.
Upon graduation, he enlisted in the U.S. Army serving as a paratrooper with the 82nd Airborne in Korea. Upon completion of his service, he began working at Mack Truck in Hagerstown, Maryland, working 38 years until his retirement in 2001.
Upon retirement, he returned to his native state and built a log cabin home on the old Hopteter place on Dickenson Mountain. He spent his retirement with his wife of more than 57 years, Sandra Temple, and enjoying their three children and six grandchildren.
He remained active in the community, volunteering with the Wounded Warrior program. He was a member of Walnut Street United Methodist Church, VFW Post 9666 in Sugar Grove, the American Legion Post 30 in Franklin, and the National Wild Turkey Federation.
His wife, Sandra Temple, survives.
Also surviving are a daughter, Dana Temple of Waynesboro, Pennsylvania; two sons, Harry Lee Temple II (Stephanie) of Katy, Texas, and Alton D. Temple (Amanda) of Cranberry, Pennsylvania; six grandchildren, Taylor, Alexis, Bailey, Kaylynn, Morgan and Carter; and a great-grandchild, Astro.
A memorial service will be held at a later date with Pastor Mike Loudermilk officiating. Military honors will be conducted by Camp Dawson. 
Memorial donations may be made to West Virginia Wounded Warriors, Pendleton Chapter of the National Wild Turkey Federation or Walnut Street United Methodist Church.
Memories and words of comfort may be left at www.basagic.com or on Facebook at Basagic Funeral Home.